Tribal Action Plan
About TAP
The TAP staff consists of employees dedicated to promoting Oneida culture with a holistic approach to develop a healthy Oneida Nation community.  
TAP is committed to disseminate prevention, awareness, treatment and recovery services of our Nation as the alcohol and drug epidemic continues to progress within our community. 
As questions or concerns arise, TAP will respond with transparency in all efforts, to eliminate ambiguity.
  If you have any questions or concerns please contact us at: tap@oneidanation.org  or see our Facebook page at: Oneida Nation Tribal Action Plan Facebook 
Oneida Faces of Recovery!
Many Oneida families are suffering from a form of addiction. TAP wanted to take the month of September 2021 to focus on Recovery and the ones that are fighting for a sober life. Here are some of the faces. If you know anyone who would like to be on the Oneida Faces of Recovery, please feel free to message tap@oneidanation.org. 
TAP Goals
Tribal Action Plan
Goal 1: Raise awareness of the drug and alcohol epidemic in our community
TAP is currently doing Monthly presentations to the community youth and adults.  Watch for activities. 
Goal 2: Increase access and bring awareness of the services relevant to alcohol and drugs – Watch for TAP events to learn more and stay involved. 
Goal 3: Develop and establish a comprehensive youth development, prevention, and intervention strategies
Goal 4: Create a comprehensive Justice System that responds to alcohol and substance abuse
Goal 5: Create healing spaces that accommodate the community's need to include a Recovery Center, Transitional Sober Living and Yukyunhiyostakhwahake Wellness Campus in our community
What we are doing
Coordinating resources and programs available to the Oneida Nation Community and publicize, on our social media outlets. TAP is raising the awareness of the epidemic of substance abuse in our community and is harm reduction resources to whomever needs it.
TAP provides culturally based activities, focusing on cultivating sober activities to enhance communication in the community and trainings to promote positive change for the future. Educating our community will help us fight to keep our community safe and sober.  
We currently have monthly presentations on substance abuse awareness and inspirational art from community members. Click here for more information on upcoming events.
SMUDGE WALKS 
Smudging is a spiritual cleanse to clear negative energy away. The herb sage is used as medicine, to lift negative feelings and energy to create a positive environment. Tap created smudge walks in hopes of having the community come together and cleanse our community and create a positive atmosphere for our relatives.
Feel free to come join in the walks or come out to smudge as we walk through the community. If you want to learn more about walks or what tap is currently doing, contact tap@oneidanation.Org or "like" us on Facebook at Oneida Nation Tribal Action Plan. (TAP)
CLICK HERE FOR SAGE WALKS UPCOMING DATES: TBD for 2023
COMMUNITY CLEAN-UPS 
Community Clean-ups were started by TAP in 2021, to create a positive community awareness of their surroundings. By cleaning our environment in our community, we are showing how we care, we respect and honor our mother earth.  We also ensure, that our children are safe of from dangerous waste, that may accumulate throughout the months.
Feel free to join in the community cleans ups we walk through the community. All equipment and materials will be available for you to use.
Here is a list of upcoming dates for the Community Clean-ups: TBD for 2023
Events/Communication
UPCOMING EVENTS
MARCH 2023:
TAP Tetwatatehsnye' (We all take care of each other) Event 

Story behind the flyer, is we must fight together!
You may be wondering why a MUSKRAT CLAW on the TAP Tetwatatehsnye' (We all take care of each other) Event Flyer.
If you don't know he is the one that dove down and floated up with dirt between his claws, so he was the fighter.
Please click on the link above for the Creation Story by Amos Christjohn, and feel free to comment about your favorite part of the story. Remember "We are take care of each other"!
The event is on March 29, 2023, at the Radisson Hotel conference Three Clans room.
TAP COMMUNITY NEWSLETTER
2021 12 NEWSLETTER
2021 08 NEWSLETTER
Recovery Stories: 
Stephanie Skenandore shares her Recovery Story
Drug Awareness
Content Warning: The following page contains materials that may be harmful or traumatizing to some audiences, this is a trigger alert!
Here is some useful information that TAP has gathered together, to help the community understand and educate themselves on drug use.  If you ever have any questions or concerns, feel free to contact at TAP@oneidanation.org. 
The National Criminal Justice Training Center from Fox Valley Technical College has developed short video called Current Drug Trends in your community.  If you're interested in watching the video click the following links:
Drug Trends
Building Stress-Resilient Tribal Communities
Drug information
The United State Drug Enforcement Administration has developed information regarding drugs for communities to review. See links below for more information. 
Bath Salts
Cocaine
Ecstasy or MDMA (aka Molly)
Fentanyl
Heroin
Marijuana 
Methamphetamine
Oxycodone 
Get the Facts About Drugs "Just Think Twice" – Drug information and also a Fentanyl Quiz. Click "JUST THINK TWICE" for more information. 
Dose of Reality DHS of Wisconsin informational page, that talks about opioids. Click here to be directed to the site. 
Overdosing Signs - What to do
SIGNS OF OVERDOSE CALL 911 

* If they are unresponsive or unconsciousness
* Slow or absence of breathing
* Snoring or gurgling sounds
* Cold or clammy skin
* Discolored lips or fingernails
If you have Narcan (Naloxone) 
1. First call 911 and follow the instructions they give you.
2. If you have Narcan place tip of nozzle in either nostril until your fingers touch the nose.
3. Press the plunger firmly to release the dose of NARCAN.
4. If there is no response after 2-3 minutes, give a second dose. (Repeat with additional NARCAN if needed)
Here is a short video from Department of Health Services of WI for you to review regarding how to use Narcan (Naloxone)
Click Here: https://youtu.be/XH2mkQC3-fc
What is Narcan (Naloxone)? The photo below shows the intranasal aka Nasal Spray. NOTE: Only effective in reversing OPIOID Overdoses. Click here for more information on Harm Reducations https://oneida-nsn.gov/resources/tribal-action-plan/#Overdose-Prevention-Harm-Reduction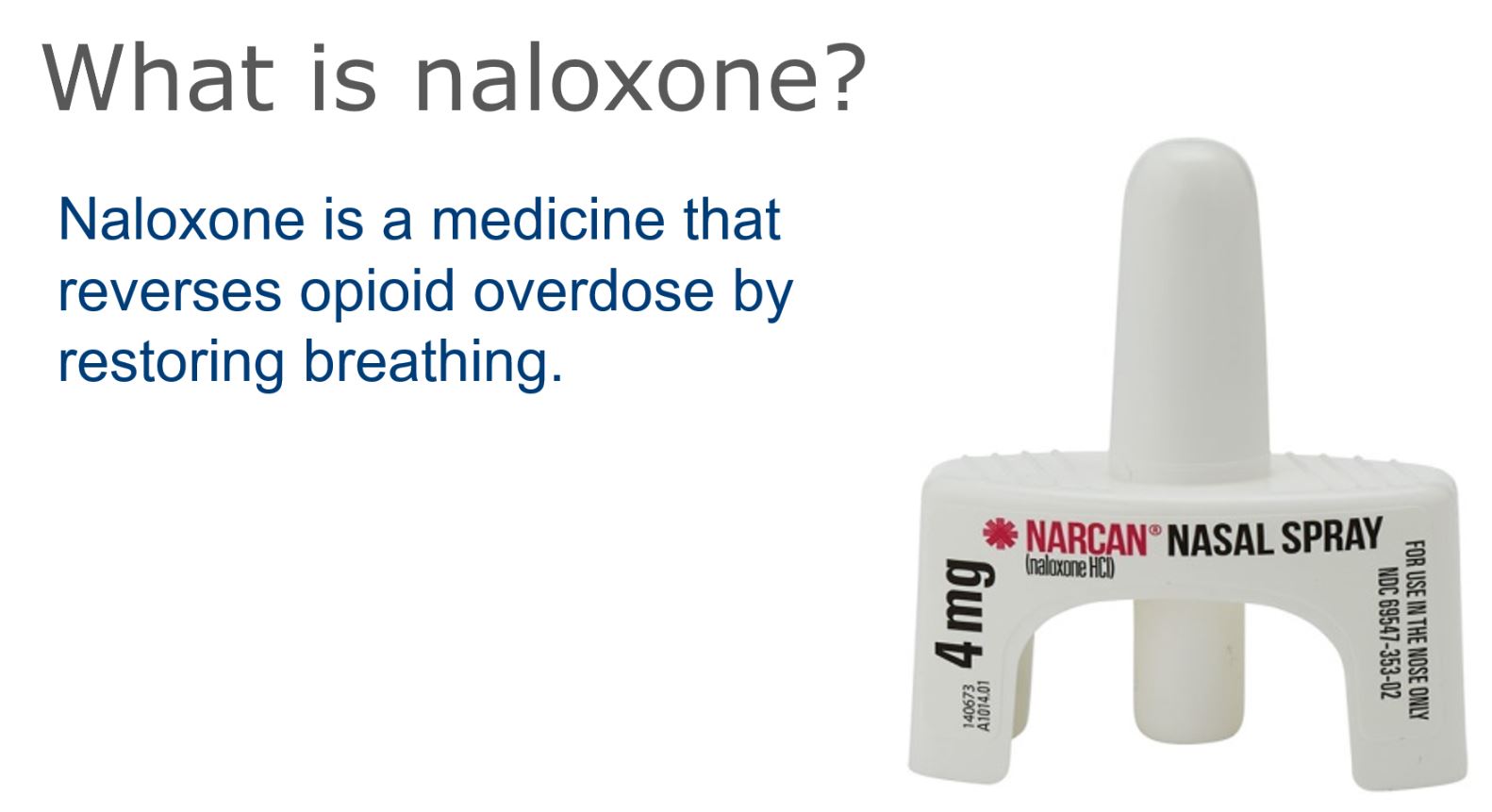 Resources for Substance Abuse Help
Please use the following services when a crisis occurs or you see criminal behavior in your neighborhoods:

KaNi Kuhli Yo Family Center
(920) 490-3790
Triage (Intake/Crisis)
(920) 490-3860
Oneida Police Department
(920) 869-2239
Crime Stoppers – 920-432-STOP (7867)
Crime Stoppers is a non-profit organization operated by a volunteer board of directors made up of people from the local community. We encourage the reporting of information or leads which can assist law enforcement with solving crimes. We assist local law enforcement agencies in the fight against crime by overcoming the two key elements that inhibit community involvement:
Brown County Drug Task Force Tip Line – 920-437-DRUG (3784)
Family Services
Crisis Center Provides face-to-face professional, short-term crisis counseling, 24 hours a day, 7 days a week for people of all ages in Brown and Sheboygan Counties. The Crisis Team in Brown County also serves 12 counties in Northern Wisconsin as well as regional Lifeline callers (1-800-Suicide and 1-800-273-TALK) with professional crisis counseling over the phone, 24/7. Crisis Center staff handles situations such as suicide, stress management, relationship issues, grief and loss, parent/child conflicts, and more.
Other services in the Brown County area:
Brown County
300 Crooks Street
Green Bay, WI
920-436-8888 
Open Door Youth Services Provides 24/7 services to runaways and other youth in crisis, responding to requests for assistance where and when it is needed. Staff provides crisis intervention and family mediation for any youth in need, with a primary goal of resolving conflict and reuniting youth with their families as quickly as possible.
Brown County
300 Crooks Street
Green Bay, WI 
920-436-4360 ext. 1287
Green Bay Help Centers
Comprehensive Treatment Centers
Methadone Clinic Green Bay | Green Bay CTC Clinic (ctcprograms.com)
Methadone Clinic specializes in the treatment of opioid addiction. Utilizing a combination of medication assisted treatment along with therapeutic interventions, Green Bay Comprehensive Treatment Center provides patients with the highest quality of care as they progress towards lasting recovery.
2357 W Mason Street, 
Green Bay WI 54303 
Clean Slate Outpatient Addiction medicine
Green Bay, WI Drug Rehab, Addiction & Alcohol Treatment | CleanSlate (cleanslatecenters.com)
Methadone Clinic specializes in the treatment of opioid addiction. Utilizing a combination of medication assisted treatment along with therapeutic interventions, Green Bay Comprehensive Treatment Center provides patients with the highest quality of care as they progress towards lasting recovery.
2960 Allied St Suite 101
Green Bay Wi 54304
920 351-1675
2979 A
Green Bay, WI
884-394-9452
Darjune Foundation Inc
HOME | darjune-recovery
DarJune's mission is to build a bridge between addiction services by utilizing a recovery centered philosophy.  We are here to empower those in recovery and educate the community!  
1018 Shawano Avenue
Green Bay, WI
920-676-9697
Jackie Nitschke Center
Jackie Nitschke Center – Home Page 
Jackie Nitschke Center provides affordable, superior alcohol and drug treatment in a home-like environment to improve the quality of life for adults and clients.
630 Cherry Street
Green Bay, WI
920-435-2093
Vivent Health, Inc Green Bay Wi
Green Bay | Vivent Health
445 S. Adams St.
Green Bay, WI
920-437-7400
(You can be prescribed NARCAN: used to revive overdoses and clean needles)