Services & Information
Fares
WITHIN SERVICE AREA
7 years old & under 
Free with an adult
Student
8 years old-18 years old

$1.00
*Must be 12 years old and older to ride alone*

Student/Adult College ID 

$1.00
*When transporting to and from College/School*
Adult
19 years – 54 years
$1.50
Elders
55+ years
Free
Persons with disabilities
$1.00 One-way
$1.50 Round-trip
OUT OF SERVICE AREA
Please call for details and pricing
PASSES
Monthly Passes (Expire at the end of every month) $25
$20 Punch Pass (Do Not Expire) $16 ($4 Savings)
$10 Punch Pass (Do Not Expire) $8.50 ($1.50 Savings)
Service Area
North Boundary: Highway 29/32 to Velp Ave. and Military Ave.
East Boundary: Military Ave. to Lombardi Ave, to Ridge Rd. Ridge Rd to Waube Ln. to Packerland Dr. (EB,F) to Highway S.
South Boundary: County Road J and County Road C, County Road S and County Road J, County Road S and Williams Grant Dr.
West Boundary: County Road C to Highway 54/55 (Seymour) to County Road G, County Road G to County Road Y, County Road Y to Highway 29/32
Oneida Public Transit will travel beyond service area for elders who need to go to medical facilities for appointments. Elders must call to schedule 24 hours in advance in order to reserve a spot. Same-day scheduling will not be guaranteed.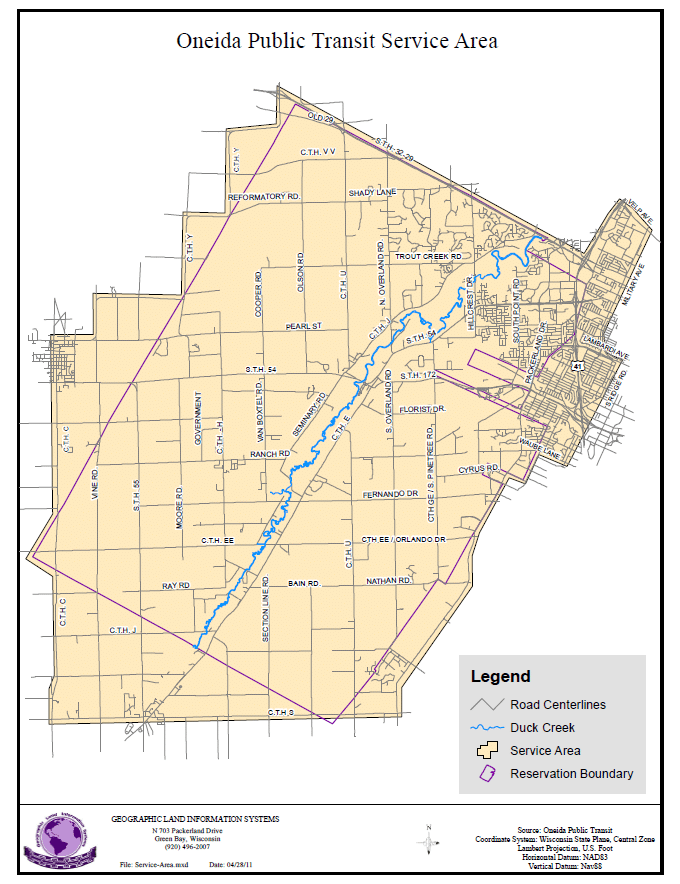 Passenger Expectations
ALL Passengers are expected to SHOW RESPECT to:

Other passengers, drivers, dispatchers and their property
Vehicles — internal and external (refrain from putting feet on the seat, damaging property, hanging from rails, etc.)

Do not attempt to ride under the influence of alcohol or any drugs.

Anyone showing signs of alcohol or any drugs use will be escorted off the bus by the Oneida Police Dept. OPD will then be responsible party for passenger(s).

Basic Transit Rules for all transit Passengers

NO EATING or DRINKING (includes throwing, littering, etc. garbage receptacles are located on vehicles)
NO SWEARING or FOUL LANGUAGE (includes offensive language, inappropriate language, etc. )
NO SMOKING on any transit vehicle
NO VERBAL ABUSE or PHYSICAL VIOLENCE — Oneida Police Department will be notified
NO WEAPONS OF ANY KIND — Oneida Police Department will be notified
NO FLAMMABLE ITEMS allowed on any transit vehicles — Oneida Police Department will be notified
Oneida Public Transit driver(s) reserve the right to refuse service to anyone disrupting, hindering, or interrupting drivers and/or passenger's riding experience. If you are identified as abusing these rules & expectations, your future transit riding privileges may be in jeopardy.
Request for Service
To request group transportation or dedicated service please completely fill out the following and return to tredhail@oneidanation.org Please allow at least 5 business days for processing and scheduling.  For better odds on approval, please schedule on our least busiest days – Tuesdays and Thursdays. Depending on scheduling availability, the request may be denied due to operational needs.
Refusing Services
Oneida Public Transit reserves the right to refuse service to any passenger who:
Doesn't comply with the Passenger Handbook and Policies
Is intoxicated (alcohol and/or drugs)
Is disruptive
Is belligerent/rude
Poses as a serious safety or health threat to themselves or others
Has unreasonable/offensive personal hygiene
Passenger who is not wearing a shirt or footwear
Is carrying a weapon
Interrupting services or affecting productivity such as "No-Shows"
Has safety issues concerning mobility device, cognitive and mental impairments
Oneida Pubic Transit may suggest alternative riding arrangements such as, but not limited to, having a personal care attendant when riding, in order continue services. The Oneida Public Transit will do their best to accommodate and have a progressive disciplinary notice set in place in order to make all the attempts to help passenger correct their behavior or offenses.
[Reminder] Oneida Public Transit is a privilege and abusing this privilege may result in discontinued service.