About Oneida Aging & Disability Services
Oneida Aging & Disability Services is a model for other aging entities and provides quality home and community based programs for disabled and elder clients. Our mission is to assist our disabled and elder clients to maintain an independent, healthy, productive, and quality lifestyle through love, caring, and respect by services we provide.
Organizational Chart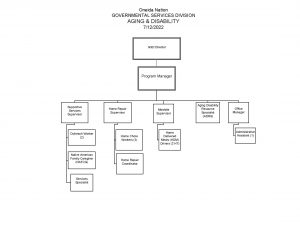 Aging and Disability Org Chart
Oneida Nation Commission on Aging
On January 11, 1994, the Oneida Nation Committee on Aging (ONCOA) took action to establish a priority of serving older elder or handicapped peoples.  Older elders are identified as 70 years or older.  It has been Elder Services' policy to ensure this group receives services that assist them in maintaining an independent lifestyle.  ONCOA continues to advocate for all services that place priority on the well-being of elders.  Click here for more information.