New Patients – What to Expect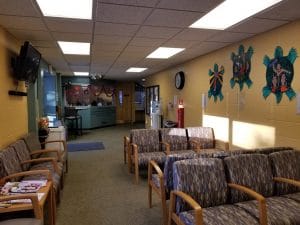 Why Counseling?​
You do not need to be in significant distress to seek counseling. Sometimes our beliefs or expectations of ourselves or of counseling results in a delay in seeking help until situations become serious, or we are already in crisis. While no issue is too big or small, many people tell us that they wish they had come to counseling sooner. Start a new journey and seek counseling earlier rather than later!
"Mary Beth has been kind and listened to my thoughts…Thanks to all of your great people."
– an OBH client
"Thank You to all the staff at Behavioral Health. You guys helped to save my life!!"
– an OBH client
What to Expect in Your First Counseling Session
Are you about to go to a counselor for the first time? Whatever your reason for seeking help, you will be more at ease and get better results if you know what to expect.
In your first session, the therapist typically will ask certain questions about you and your life. This information helps them make an initial assessment of your situation. Questions they might ask include:
Why you sought therapy. A particular issue probably led you to seek counseling. The therapist has to understand your surface problem(s) before he can get to the deeper issues.
Your personal history and current situation. The therapist will ask you a series of questions about your life. For example, because family situations play an important role in who you are, he'll ask about your family history and your current family situation.
Your current symptoms. Other than knowing the reason you sought therapy, the therapist will attempt to find out if you're suffering from other symptoms of your problem. For example, your problem might be causing difficulty at work.
The therapist will use this information to better understand your problem. And, while they may make a diagnosis at the end of your first visit, it's more likely that a diagnosis will take a few more sessions.
Don't just sit there
Therapy is a team effort. If you don't take an active part in the session, you won't find the counseling experience valuable. Here are some things you can do to make your first session as successful as possible.
Be open. Therapists are trained to ask the right questions, but they're not mind readers. The therapist can do his job more effectively if you answer the questions openly and honestly.
Be prepared. Before you get to the session, know how to describe "what's wrong," and to describe your feelings about your problem. One way to prepare is to write down the reasons you're seeking help. Make a list and then read it out loud. Hearing yourself say it a few times will help you describe things more clearly to the therapist.
Ask questions. The more you understand the counseling experience or how counseling works, the more comfortable you'll be. Ask questions about the therapy process, and ask the therapist to repeat anything you don't understand.
Be open and honest about your feelings. A lot will be going through your head in this first session. Listen to your own reactions and feelings, and share them with the therapist. You'll both learn from these insights.
Be sure to go to your first session with realistic expectations. Therapy is not a quick fix for your problem, rather it is a process. With some effort on your part and a strong relationship with your therapist, it can be a successful tool toward resolving problems.
By Steve Bressert, Ph.D.
"She makes you feel welcomed in her office and the hour flies by…
I was surprised and a bit sad that the session was over."
– an OBH client
Patient Rights​
When a community member comes in for services, they have certain rights. First and foremost, is the right to confidentiality. Confidentiality means that no staff at Behavioral Health can talk about you and your concerns outside of this agency without you giving Behavioral Health written permission to do so. ​
Other rights include, but are not limited to:
The right to receive prompt and adequate treatment​
To refuse treatment, including medication​
To refuse to be filmed or recorded without your consent​
To access your treatment records after discharge–with proper notice & within the limitations of the law​
To bring court action for damages against people who violate your rights or confidentiality
The right to file a verbal and/or written complaint with the Behavioral Health Director, to have a grievance procedure available to you, and to have an advocate represent you during the grievance process​
In addition, there are specific state regulations that pertain to outpatient mental health and AODA treatment for children and adolescents, as outlined in the brochure​.
​
Exceptions to the Rights of Confidentiality​
Duty to warn​: Any health care provider, as permitted by s. 146.816 (2) (b) 4. or 5., and any law enforcement officer may make a disclosure of information evidencing that an individual poses a substantial probability of serious bodily harm to any other person in a good faith effort to prevent or lessen a serious and imminent threat to the health or safety of a person or the public
Mandated reporter​: Wisconsin law (48.981(2)) requires that any mandated reporter, which includes counselors, who has reasonable cause to suspect that a child seen by the person in the course of professional duties has been abused or neglected, or who has reason to believe that a child seen by the person in the course of professional duties has been threatened with abuse or neglect and that abuse or neglect of the child will occur, make a report to county Child Protective Services or law enforcement.
In addition, Wisconsin law (175.32) requires that any mandated reporter who believes in good faith, based on a threat made by an individual seen in the course of professional duties regarding violence in or targeted at a school, that there is a serious and imminent threat to the health or safety of a student or school employee or the public, make a report to law enforcement.
Records subpoenaed by court, pending Tribal Law Office approval​: If a patient's records are subpoenaed by a state or federal court, the Tribal Law Office will review the subpoena and make a determination on whether to allow the release of the records requested.  
No Show Policy​
Behavior Health has a policy that addresses No Show appointments. This is when an appointment has been schedule but the patient does not show up for the appointment. No Shows directly impact the ability of others who need help securing appointments in a timely manner. Recently, OBH determined that one out of every four initial appointments is a No Show​.
A No Show is defined as:
Not communicating 24 hours or more in advance to OBH that an appointment cannot be kept​
When a client does not attend a scheduled appointment ​
No Show of first initial appointment (Intake – a Triage Consult is required after No Show and prior to scheduling another Intake appointment) ​
No Show of follow up appointment (Counseling)
Three (3) missed appointments/No Shows within three months could result in discharge from services, with an inability to access services for a time period of six months​.
Participation in Treatment Contract​
Community members participating in services at Behavioral Health will be required to sign an Individual Participation Contract. This contract outlines the following expectations:​
Abstain from inappropriate use of alcohol or complete abstinence from alcohol if indicated on community member's treatment plan.​
Commit to abstinence of any illicit substances. ​
In the event medications are prescribed, individual agrees to take only his/her own medications, following the instructions of the prescribing physician.​
If the individual is unable to follow these expectations, they agree to inform their counselor. ​
​Individual agrees to random urine drug screens if requested by their primary and/or other OBH providers. A pregnant individual will agree to random urine drug screens. Failure to comply with this request could result in discharge from services.​
Community members will attend counseling as scheduled. If unable to attend, individual agrees to give at least 24 hours advanced notice of any cancellation. Three (3) missed scheduled appointments within 3 months will result in discharge from services.​
An individual involved in group counseling will attend all sessions as scheduled. Two (2) unexcused absences from the group could result in immediate discharge from that service.​
Behavioral Health psychiatrists have the right to decline prescribing medication for those people who use illicit substances and/or for those who do not follow up with counseling recommendations.​
Hours of Operation​
Monday – Friday, 8:00 am to 4:30 pm. ​
Outside of regular business hours, calls made to Behavioral Health, (920) 490-3790, are automatically forwarded to the Brown County Crisis Center. ​
For the convenience of community members, some specific groups are scheduled during evening hours.