Energy Development Program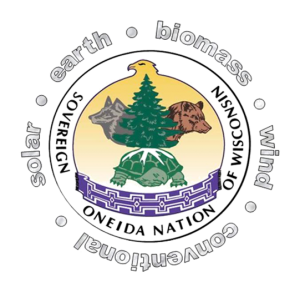 Please choose a link………….
Energy Optimization Model
Project Information
The Energy Optimization Model was a renewable energy assessment report that was completed in 2014.
The work was funded by a Department of Energy grant.
The objective of this study was to evaluate the local energy sources – solar, wind, and biomass (trees and grasses) – to provide evidence of future opportunities that Oneida may pursue if they chooses to invest in renewable energy sources.
Each energy source has its own set of advantages and disadvantages.
Energy Source Descriptions
Wind
The wind in Oneida is classified as moderate at about 12 miles per hour on average. This means that wind is available, but an investment needs careful consideration.
A small wind turbine is able to provide energy for one of a few buildings. Small wind is convenient for individual homeowners and businesses, however permitting can limit the turbines placement, turbine construction is high priced, and operations & maintenance can be costly on an annual basis.
A large wind turbine can provide enough power for 200 to 400 homes. Community wind is a popular trend for many communities across the country, where less than five turbines are constructed to offset energy costs. Large wind is typically plugged into the utility transmission system and sold to the utility. Large wind is subject to strict state energy policies and the utility's demand for energy that is produced by external sources. Usually, energy is approximately sold for a wholesale amount which greatly affects the decision to invest.
Biomass
Biomass includes trees, grass, and certain crop products. Trees are not very prevalent in Oneida, but there is potential to use cropland as a source of annual energy products such as Switchgrass.
Northeast Wisconsin contains much more cropland than timber land. The closest, significant source for timber is northern Wisconsin. Transporting biomass resources great distances is expensive.
Research is providing evidence that certain grass species can be harvested and used for heat. Two to four acres of Switchgrass contains enough energy to heat a home over a winter season. Challenges do exist…..for example, grass products produce a lot of ash and wood or pellet stoves are not equipped to manage a lot of ash.
Solar
Solar has often been thought to be too expensive and not useful in Wisconsin. Our climate and latitude does not make for perfect conditions to support solar, however prices have dropped considerably in the last 10 years making it a technology to consider.
Solar availability is measured in hours per day. Arizona, for example, is the sunniest state in the country with about 7.5 hours of sun per day. Wisconsin is at about 4.2 hours per day, almost half as much!
However, considering that prices are 60% less than what they were 10 years ago, it's getting increasingly affordable.
Another advantage is that the size of a solar project can be very flexible….you can build as small or as large as you want, with space and budget the limiting factors.
Solar can be connected directly to the circuit panel in the building.
There are other challenges…..code and utility policies can put requirements and limits on the project.
Systems can be ground or roof mounted, so a system must be installed with care and attention to detail.
Bottom Line
The bottom line…..there are no local fossil fuel sources. All coal, natural gas, and oil are imported to Wisconsin.
All renewable technologies have to be designed properly and appropriately to be effective and affordable. 
Market forces will have a strong influence on choices that are made.
If there is any desire to start treading a path toward a clean energy economy, steps need to be taken.
This will be a slow transition and each of these technologies will have to play a role.
For starters, evidence suggests that solar is a near-term solution; wind and biomass will soon follow.
For more information about these different resources, please click on these links:
06-2014_EnergyOptimizationModelProjectUpdate
06-2014_BiomassEnergyFactSheet
To learn more about the project findings, please click this link to the final report…..Oneida Nation Wisconsin Renewable Energy Opportunities
AJRCCC Solar Hot Water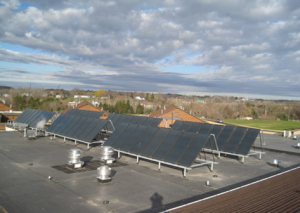 Anna John Resident Centered Care Community
airphoto: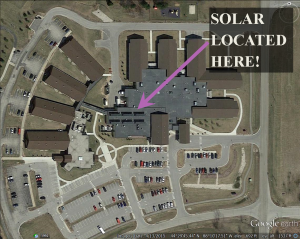 System Information
This solar hot water system has been operational since 2014.
There are 48 collectors in this system.
There are 4 storage tanks with a total capacity of 2,000 gallons of hot water.
It is providing about 50% of the hot water that is consumed at the AJRCCC.
Click this link to read the 2014 project update for this solar hot system….06-2014_AJRCCC-SolarThermalProjectUpdate
Click this link to see the energy report for the system…..System Energy Report
Food Distribution Center Solar Electric
Please be patient, we're still under construction.
This system has been operational since 2000.