Programs & Services
Oneida Family Fitness is excited to announce the following services will be available to our Membership:
| | |
| --- | --- |
| Group Fitness classes: | FREE; See Group Fitness tab for class schedule; Pre-registration required |
| Full Court Basketball: | TEMPORARILY UNAVAILABLE DUE TO RENOVATIONS |
| Personal Training: | Fee associated; single sessions and packages available; See Personal Training tab for more info |
| Martial Arts: | Fee associated; 6 month memberships available for Tai Chi, Tae Kwon Do, and Ju Jitsu; Mighty Ninjas AND Beginner Tae Kwon Do are a 6 week session; See Martial Art tab for schedule |
Group Fitness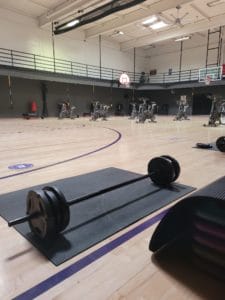 Pre-Registration is REQUIRED!  Click on BOOK NOW to reserve your spot.  Space is limited. 
**NO CALL/NO SHOW POLICY:  3 no call/no shows per month will result in revocation of future class attendance for 1 week.


Gymnasium
GYMNASIUM Temporarily CLOSED due to renovations
Full Court Basketball
Monday & Wednesday's (11am – 2pm)
Friday's (1pm – 3 pm)
Ages 18 and older only

Personal Training
A program designed for YOU! 
Our certified personal trainers work with all fitness levels to help clients
maintain or build a healthier lifestyle through physical activity
* Click Here to view our personal training brochure*
| | |
| --- | --- |
| Personal Training Fees & Packages | Price |
| 30 minute session | $20 |
| 60 minute session | $40 |
| (5) 30 minute session | $100 |
| (5) 60 minute session | $200 |
| (10) 30 minute session | $180 |
| (10) 60 minute session | $300 |
*Appointment required; Call (920) 490-3730 for more information
Martial Arts
Interested in Martial Arts?
Master Kevin Schoenebeck brings 40+ years of martial art experience to Oneida.  He is a 8 degree black belt in Tae Kwon Do, a Masirb Guro in Inayan Eskrima, and a 5th degree black belt in Danzan Ryu Ju Jitsu, and a full instructor in Tai Chi.
Oneida Martial Arts offers Ju Jitsu, Tai Chi (13 years and older) Tae Kwon Do (6 years and older) and Mighty Ninjas (4-5 years old) to Oneida Enrolled, Oneida Descendants, Oneida Employees, and Other Tribe affiliation.  Must be a Fitness Member to participate.
CLICK HERE for current Martial Art Schedule and fees
*Martial Art programming is available to Oneida Enrolled Members and Employees.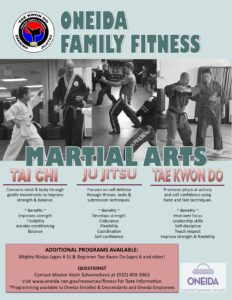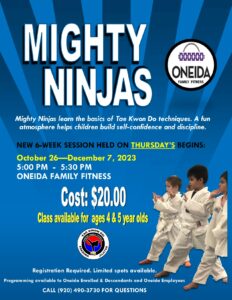 NEW 6-week MIGHTY NINJA session, begins Thursday, October 26!

Pre-Registration required; available for ages 4 and 5.
CLICK HERE
 to print flyer.
NEW 4-week Beginner Tai Chi session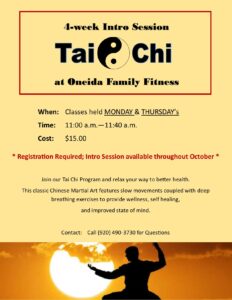 Available throughout OCTOBER!
    Pre-Registration required; available to ages 13 and older. 
   CLICK HERE to print flyer.

T.R.I.A.D. - Diabetic Program
Taking

R

esponsibility

I

n

A

ddressing

D

iabetes
"A basic exercise program for patients diagnosed with diabetes."
               
                     PROGAM INCLUDES
Pre/Post Fitness Assessment
Personal Training
Wellness Coaching
Goal Development
Exercise Equipment Orientation
Partition Incentives
Nutrition & Fitness Education
This is a referral based program; contact the Oneida Community Health Center Diabetes Team at (920)869-2711.