Diabetes Prevention Program
The Oneida Diabetes Prevention Program (DPP) helps to prevent diabetes by empowering participants to make simple lifestyle changes such as, exercising more, eating healthy food and losing weight.
Eligibility
Taking part in this program is voluntary.  Participants must be 18 years or older, however, adolescents can participate with a parent.
Oneida Community Health Center patients
Oneida Nation employees receiving health insurance benefits
Participants cannot be pregnant, have cancer, or on dialysis with End Stage Renal Disease
Participants should be willing to participate in regular diabetes prevention education classes and monthly coaching visits
Participants should be willing to commit to the program for at least 1 year
Why Join
The Diabetes Prevention Program can help in several ways:
We will watch your health closely.
You will get routine labs and assessments.
You will take classes on eating healthy, increasing physical activity, and losing weight.
You may be able to delay or avoid getting diabetes by participating in this program.
If you have diabetes, you may be able to keep it under control.
Core Classes
The 12 month Core Program involves participation in 10 weekly classes, 6 biweekly class, 6 monthly classes, and biweekly coaching with a Wellness Coach.  These classes will provide the tools necessary to eat healthy, increase physical activity, and change habits that lead to living a balanced, healthy life.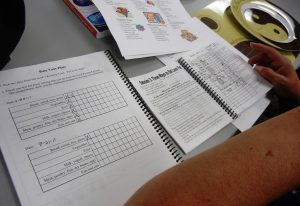 Below are the class lessons throughout the year:
Welcome – Introduction to the Program
Get Active to Prevent Diabetes
Track Your Activity
Eat  Well to Prevent Diabetes
Track Your Food
Get More Active
Burn More Calories Than You Take In
Shop and Cook to Prevent Diabetes
Manage Stress
Find Time for Fitness
Cope with Triggers
Keep Your Heart Healthy
Take Charge of Your Thoughts
Get Support
Eat Well Away from Home
Stay Motivated to Prevent Diabetes
Stay Active Away from Home
More About Carbs
Get Enough Sleep
Have Healthy Food You Enjoy
When Weight Loss Stalls
Prevent Diabetes for Life!
Wellness Coaching
Participants will meet with a Wellness Coach at least 1x per month throughout the program.  Wellness coaches are trained to help clients develop & implement personal wellness plans.  The process of wellness coaching progresses through several stages:
You provide background information through a wellness assessment so that you and your coach are well-informed on the key issues, including medical considerations.
During the first 30-60 minute coaching session, you identify your priorities and develop a personal wellness plan including a wellness vision, three month goals and the first steps.
In subsequent 30-40 minute coaching sessions, each week, bi-week, or month, you and your coach review the progress toward your vision and goals, explore and resolve the most pressing issues, learn something new, and then agree on a set of goals for the following week. You will enjoy plenty of ah-ah insights along the way.
By the end of three months, you should reach more than 70% of your three-month goals and feel energized and confident to embark on new areas with or without your coach.