National Silence the Shame Day Encourages Open Conversations about Mental Health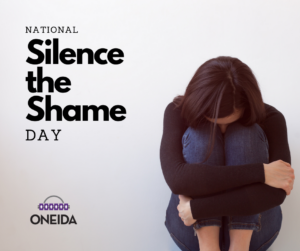 This May 5 is "National Silence the Shame Day," a day to encourage open discussions about mental health with loved ones and friends to remove the stigma often associated with speaking openly about the challenges we face.
"Every person on the planet experiences their own state of mental health. The term refers to our emotional, social and psychological health," explained Mari Kriescher, Oneida Behavioral Health Director.
"Mental health is not a fixed state or permanent experience, rather it's a fluid state and changes based on the stimuli and circumstances in our lives at any given moment. By speaking about our mental health with others we take a courageous step that can lead to an improved sense of well-being."
If you feel your mental health may improve with a deeper conversation, providers at Oneida Behavioral Health are here to listen. We offer support and a variety of resources, from traditional therapy to alternative methods such as brain spotting, reflexology and reiki.
Reach out to Oneida Behavioral Health by calling (920) 490-3790. If you are experiencing a mental health crisis, please contact our Triage number at (920) 490-3860 or after hours, call or text 988.
Additional options to improving your overall mental health include exercising, spending time outside, eating something healthy, spending some time alone or sharing time with a friend.
"Each person is unique and it's important to determine what works best for you," Kriescher explained. "What's most important is to know that taking care of your mental health is as important as taking care of your physical health and is essential to living your best life."
###
Oneida Behavioral Health (OBH) offers a wide range of services to members of the Oneida Nation and their families, including individual adult, youth and children's therapy, ATODA services, suicide prevention, depression awareness, grief counseling and more. Services are provided at locations including the Ka?nikuhli.yo Family Center, Anna John Resident Centered Care Community, Veterans office and Oneida Nation schools.