Photos courtesy Casey J. Brown
Oneida Nation dancers perform for the 2023 Chicago Travel & Adventure Show the weekend of January 14-15, 2023. The Travel & Adventure Show, a NATOW event, was a great opportunity for the dancers to demonstrate a part of Oneida Nation culture which helps promote tourism on the reservation. 
Government Administrative Office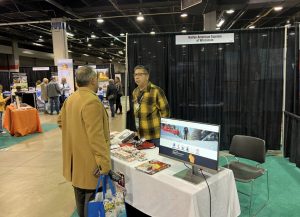 Oneida Business Committee (OBC) Councilman Kirby Metoxen spent the weekend of January 14-15 at the Chicago Travel & Adventure Show championing all the tourist opportunities available to visitors on the Oneida Nation Reservation. With a focus on the OBC's Broad Goals of Revenue Generation, Culture and Language, and Education, Councilman Metoxen attended the travel show in partnership with various tourism agencies to draw visitors to the reservation.
"The Oneida Nation has been attending the Chicago Travel & Adventure Show for the past 20 years," Metoxen said. "We've been partnering with the Department of Tourism as well as Native American Tourism of Wisconsin (NATOW). NATOW is a consortium of the 11 tribes in Wisconsin and the City of Green Bay's Visitors and Convention Bureau, and this particular show is for travelers and tour operators from the Chicago area who like to pre-plan their vacation destinations."
The Chicago Travel & Adventure Show is a great opportunity to expose potential visitors from across Turtle Island to all the Oneida Nation has to offer. "There were attendees from Florida, Arizona, California, Oklahoma, and numerous other states, so we were able to show them what Oneida is all about as well as compete directly for their tourism dollars. This particular show had well over 250 vendors promoting all the things they had to offer in their respective states and on their reservations."
The Oneida Nation, a member of NATOW, directly jockeys with other industries to draw visitors in. "We compete with cruise lines, big name brands like the Green Bay Packers, the Choctaw Nation, Ski-Doo, and the hotel industry in the Florida Keys for example, everybody is competing for the same thing. Anybody that's anything in the tourism industry is doing the same thing, and part of what we convey by attending these events is educational in nature about our tribe and the other 10 in Wisconsin. We're all only a few hours drive away from Chicago and we have so much to offer."
The Oneida Nation and other NATOW tribes are much more than gaming, and that's why this kind of venue is the perfect opportunity to highlight those offerings. "We have golfing, whitewater rafting, fishing, snowmobiling, RV camping, 4-wheeling, we all have so much more to offer than just gaming. The goal is to get those Illinois tourists and families up to our areas and become frequent visitors," Metoxen explained.
"My rule of thumb in attending this event is to get 'heads in our beds.' If we as a Nation were to stop attending these types of events after being longtime participants, and we aren't directly in front of the customer, that customer may well think that we've closed our hotel, or they no longer have tours and other amenities available. So, this travel show is a part of what helps keep us at the table, because if we aren't at the table, we're on the menu," Metoxen said.
Being a member of NATOW brings the understanding that not all tourists would come to Northeast Wisconsin just to visit Oneida. "With all of the partnerships Oneida has in Wisconsin with the Department of Tourism, the Milwaukee Visitors Convention Bureau, the Green Bay Packers Visitors Convention Bureau, the Menominee Tribe's whitewater rafting opportunities, and all the Pow-Wows we have throughout the year, these are the things we try to draw those people up here to get those 'heads in our beds.'
"So, we were there representing, along with the other NATOW tribes, to accomplish the same goals which is to draw visitors to our reservation," Metoxen said. "If we got all these visitors traveling to our reservation, and it's just traffic, traffic without compensation is just traffic. So we want a piece of that compensation and those tourism dollars. This was an all-day Saturday-Sunday trade show that gave us a fantastic opportunity to be in the spotlight and draw outside dollars to our community. It was a long weekend and I still had to perform my Monday-Friday job responsibilities, but this is a 24/7 job and I am more than happy to be a representative of our Nation."
The global pandemic slowed participation in the Chicago Travel & Adventure Show in recent years, but this year's participation increased noticeably. "We're fortunate to be partnering with NATOW, as they covered the cost of our booth and paid all the travel expenses," Metoxen continued. "They also paid for some of our tribal dancers to travel down as well and gain some stage time in front of the convention, so it was a win-win for all involved."
The overall fiscal impacts of tourism on Northeast Wisconsin, including the Oneida Nation, are a key component to the recovery of the region's economy since the onset of the global pandemic. According to The Greater Green Bay Visitors and Convention Bureau, 2021 saw 5.5 million people visit Brown County with a total of $632 million in direct spending. Direct spending includes hotels, retailers, restaurants, attractions, transportation services and other businesses, all of which helped support 12,352 tourism-related jobs in Brown County.
The economic impacts of tourism on the Oneida Nation are directly tied to tourism in the region as well. As travel confidence increased dramatically in 2021, the financial outlook for 2023 on the various tribal entities is bright. For instance, Gaming is forecasting revenues similar to those experienced in 2018 when the Nation posted historically high gross profits just prior to the pandemic. The Radisson Hotel & Conference Center anticipates similar growth in 2023 as well.
The Oneida Nation will commemorate 200 years of presence in Northeast Wisconsin in 2023. The tribe's 200 Year Bicentennial commemoration is expected to take place from July 25-30, 2023, and thousands of tourists are anticipated to visit the reservation which in turn will help bolster the Nation's economy. Here is a breakdown of tentatively scheduled events:
Tuesday, July 25, 2023, will be a press day. Councilmembers from all 11 of Wisconsin's federally recognized tribes, including the Brothertown Indian Nation, are invited to participate in talking sessions and an opening event. Workshops will take place throughout the week including pottery making, basket making, beading, and painting.
Wednesday, July 26 – Thursday, July 27, 2023, will be packed with activities including a Tribal History Conference at the Radisson Hotel & Conference Center. Discounted breakfasts will be available each of these days as the tribal history speakers educate listeners into the afternoons. Workshops will continue at the Amelia Cornelius Culture Park while Oneida Adventures will host kayaking and other activities.
Friday, July 28, 2023, will see the Radisson Hotel & Conference Center host a discounted cultural breakfast while workshops continue at the Amelia Cornelius Culture Park. Later that evening the Radisson is expected to host either a theater night or a local talent show.
A walk/run event will take place at Oneida Lake Saturday, July 29, 2023. This will also be a Family Fun Day on the Norbert Hill Center grounds with children's bounce houses, live music, a comedy show, food and craft vendors, and possibly a fireworks show that evening.
Sunday, July 30, 2023, will wrap up the weeklong celebrations and it is hoped a spiritual service will take place.
All 200 Year Commemoration activities are currently in the planning stages and are subject to change. An Explore Oneida webpage is currently in the process of being created which will have all of the commemoration schedules and updated information as it becomes available. Here is a link to the site which, again, is currently under construction and visitors are asked to check it often as the commemoration dates approach:
200 Year Bicentennial July 25-30, 2023 – Explore Oneida.