Oneida Nation photos
Oneida Nation leadership joins Oneida Royalty and Military of the Purple Heart representatives for the November 17, 2022, Purple Heart Reservation sign unveiling at the Oneida Veterans Memorial Wall.
Government Administrative Office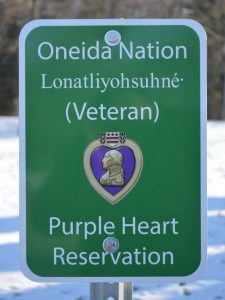 After more than three years of work, the Oneida Nation has achieved visual recognition for the approved requests from two highly regarded Oneida Nation Warriors, Cletus Ninham and the late George Greendeer, to make Oneida an official Purple Heart Reservation. Highway signs reflecting this honorable status have been placed along tribal roadways by the Wisconsin Department of Transportation, while smaller signs acknowledging the same status have been installed at the Veterans Memorial Wall along Highway 54, the Veterans of Foreign Wars (VFW) Post 7784, and the Oneida Veterans Services Office.
Oneida Nation Chairman Tehassi Hill, Vice Chairman Brandon Stevens, and Councilmembers Kirby Metoxen, Jennifer Webster, and David Jordan attended the November 17, 2022, unveiling of the official Purple Heart Reservation signs as part of the Oneida Business Committee's (OBC) Broad Goals of Education, Culture and Language, and Government Roles and Responsibilities.
"We are proud to be unveiling the newly constructed Oneida Nation Purple Heart Reservation signs," Oneida Nation Chairman Tehassi Hill said. "On April 24, 2019, the Oneida Business Committee declared our reservation a Purple Heart Reservation to recognize, honor, and remember our Oneida Warriors who were wounded in combat.  Many of our veterans made this designation a reality. I would also like to remember George Greendeer who made this a priority in his life and unfortunately did not live to see this monument and these signs come to fruition. I am proud to be here with all of you who made this a reality."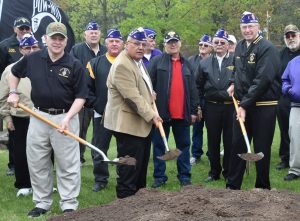 Oneida Warrior and Military Order of the Purple Heart (MOPH) member Cletus Ninham spoke about this great honor and the role he and his good friend Greendeer played in the realization of this endeavor. "George asked for my opinion on having a Purple Heart monument placed by the Oneida Veterans Wall," Ninham said. "I agreed with him believing this would be a great way to honor Purple Heart recipients. George, Al Johnson, and I would meet to discuss the monument, what it would look like, who would make it, costs, and whether we should have pavers.
"It was around this time that George was elected MOPH State Commander, and we had Chris Cornelius as the VFW District Commander and Veterans Services Officer Kerry Metoxen who were all invited into the discussions about the monument, road signage, and the Purple Heart Reservation designation. The OBC overwhelmingly passed our requests.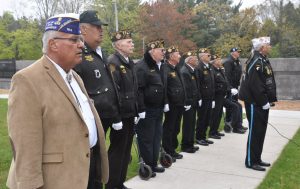 "On October 16, 2020, my friend George Greendeer passed away," Ninham continued. "His passing was a great loss to this community. He witnessed the monument being placed but never got to see its dedication. George had an uncanny ability as a speaker. He could sell water back to the water department. Along with the monument and the Purple Heart Reservation designation, this signage will be a landmark not only for Purple Heart recipients, but for all veterans including those who've passed away – 'All gave some, some gave all.'"
In addition to the OBC and the Greendeer family, numerous Oneida Warriors from VFW Post 7784, Chapter 164 of the Wisconsin MOPH, and the Veterans Services Office attended the dedication ceremony along with Oneida Royalty and Wisconsin State Representative Jim Steineke, a staunch supporter of the project from its inception.