Oneida Nation photos
The Oneida Nation, as one of the intervening tribes supporting the constitutionality of ICWA, sent a delegation to Washington, D.C., November 9, 2022, to participate in a rally as the Supreme Court heard oral arguments in Haaland v. Brackeen. The Oneida delegation joined hundreds of other First Nation's delegates from across Turtle Island in a show of solidarity over a case that could have dire implications for not only child welfare proceedings, but tribal sovereignty itself.
Government Administrative Office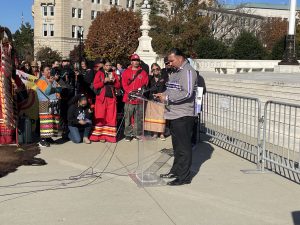 Showing solidarity with the National Indian Child Welfare Association and numerous Native Nations from across Turtle Island, the Oneida Nation of Wisconsin sent a delegation to Washington, D.C., to participate in a November 9, 2022, rally on the steps of the Supreme Court of the United States (SCOTUS). The delegation, consisting of Oneida Business Committee (OBC) Chairman Tehassi Hill, Secretary Lisa Liggins, and Councilmembers David Jordan, Marie Cornelius, Kirby Metoxen, and Jennifer Webster, among others, joined the rally in support of the Indian Child Welfare Act (ICWA) of 1978. The SCOTUS heard oral arguments in Haaland v. Brackeen, a polarizing case challenging the constitutionality of ICWA that could have dire implications across the entire child welfare system. The delegation's participation in the rally is in line with the OBC Broad Goals of Culture and Language and Government Roles and Responsibilities.
Signed into law in 1978, ICWA was enacted by the United States Government to fulfill its trust duty to tribes and to combat the issue of Native children being taken from their families and tribes by case workers and state courts. The premise of ICWA is simple in that when Indian children stay with their families and communities, the tribes and children are both better off.
Widely heralded as the Gold Standard of child welfare proceedings, ICWA is being challenged by the State of Texas as well as other individual plaintiffs. Haaland v. Brackeen stems from a 2017 adoption petition brought in Texas in which certain sections of the ICWA were later ruled unconstitutional by the United States Court of Appeals Fifth District.
The Oneida Nation is one of 4 Native Nations who have intervened in the case to ensure tribal interests were adequately represented by filing a motion to dismiss and opposing the plaintiffs' motions for summary judgement. Twenty states, 180 Native Nations, thirty-five Native organizations, 87 Congresspeople, and twenty-seven child welfare and adoption agencies have expressed unilateral support for the upholding of ICWA.
"The purpose for the ICWA rally was to call attention to this case before the Supreme Court," Chairman Hill said. "I feel it was successful in terms of a good turnout and the media coverage that was received. Attending this hearing in person was a great experience with being able to see the Justices' reactions and mannerisms to both the questions and responses. I am hopeful that the court will rule on the side of the law and uphold ICWA and tribal sovereignty."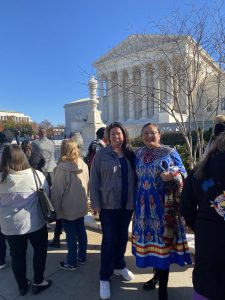 Rallying with the American Indian Movement (AIM) was a new experience for Councilwoman Cornelius. "The ICWA rally went very well with many First Nations showing up to represent, including AIM," Cornelius said. "Seeing AIM in person was a great experience as up until now I've only read about them in my studies and never witnessed them do their thing in person. Overall, the rally was peaceful with National Congress of American Indians President and Quinalt Nation member Fawn Sharpe doing a great job in organizing this event.
"I was so excited to represent that I woke up at 4:00 a.m. and got in line at 5:00 a.m. to try and get a seat in to hear the oral arguments, but they only allowed 46 other participants who were in line well before me in, and unfortunately I was number 50," Cornelius continued. "This was an important event to participate in because it required our voices to be heard, our resilient spirit to be seen, and it serves as a reminder to all that we are still here and willingly prepared to fight for our children. It's our inherent duty to protect our children and assert our sovereignty status. Anti-ICWA individuals and groups can't keep taking our Indigenous children from us as they're citizens of sovereign Nations who have inherent sovereignty. I pray the SCOTUS makes the right decision, because the wrong one could change more than 100 years of federal Indian policy and how our inherent sovereignty is viewed by the outside world."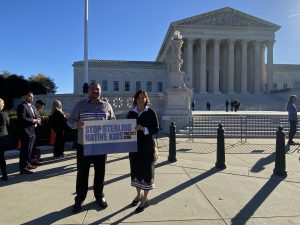 Councilwoman Jennifer Webster also has strong feelings regarding ICWA. "With the Oneida Nation being one of the 4 intervening tribes on behalf of ICWA, I was so proud that our tribal attorneys were able to lend a hand in this case," Webster said. "Attorney Kelly McAndrews, along with Chairman Hill, was inside the courtroom listening to the oral arguments. As you know the dismantling of ICWA will have negative, long-term effects not only on our children, but it would also be a direct attack on our sovereignty, our language, and our culture. Hundreds of other tribes were present, along with Oneida, united in prayer on the steps of the Supreme Court for the protection of our children.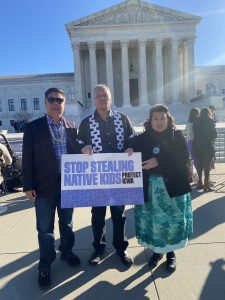 "I know that on a national level not everybody watches or cares what happens in Indian Country, but I want our members to know the Oneida Nation is doing everything we can to protect not only our children, but all Native children and we are blessed to be able to do that," Webster said.
Councilman Kirby Metoxen was thrilled with the outpouring of Indian Country support. "I was hoping for a large turnout of Native support and it worked out quite well," Metoxen said. "It was a sight to see with the different speakers, singers, and drums. Various Tribal Chairpersons spoke on the importance of this ICWA case to Indian Country, but it was hard to get a read on how the oral arguments were going."
Haaland v. Brackeen is at the very core of tribal sovereignty and may have serious implications for Native children and their families. If the SCOTUS accepts the State of Texas' and the individual plaintiffs' arguments regarding ICWA, there will be serious repercussions across the entire foster care system. ICWA maintains provisions that all welfare organizations have deemed important for children in the foster care system. The ripple effects could also be devastating for the sovereignty of all Native Nations across Turtle Island as they continue to press for economic development and land rights. By overturning decades-old law, the court would upend and politicize the constitutional consensus for Congress' ability to pass legislation concerning Native Americans.
With oral arguments now complete, the SCOTUS is expected to render its decision sometime in June 2023.