Oneida Nation photos
Government Administrative Office and Digital Technology Services personnel (left) work with Oneida Nation Chief Counsel Jo Anne House and OBC officials Kirby Metoxen, David Jordan, Lisa Liggins, Tehassi Hill, and Brandon Yellowbird-Stevens during recent InEvent platform testing. Platform testing will continue in the days ahead of the first-ever Oneida Nation Virtual GTC Meeting to ensure a successful and meaningful experience for tribal membership and leadership.
Government Administrative Office
The onset of the COVID-19 pandemic in 2020 changed the lives of the entire global population with its restrictive affects impacting not only the way individual people live, but the way entire governments perform their highly demanding duties. For the Oneida Business Committee (OBC), these challenges have required critical, outside-the-box thinking in all facets of the way they lead.
Among the most arduous challenges the OBC has been confronted with is how to conduct a General Tribal Council (GTC) Meeting in a safe, effective, and meaningful way for the membership. Not lost on the committee is the fact that GTC has not convened since late 2019, prompting the OBC, in conjunction with the Oneida Digital Technology Services (DTS) and Government Administrative Office (GAO) teams, to look into the logistics of hosting a Virtual GTC Meeting.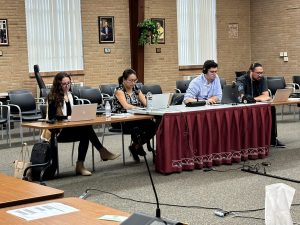 Early in the exploration process, several virtual meeting platforms were researched to identify which one would best meet the unique needs of the Oneida Nation, and InEvent was selected from a pool of seven. Once that selection was made, the platform familiarization process began in earnest. "I've worked through quite a bit since we began this process," DTS Full Stack Developer Forrest Pelky said. "Some of the challenges I've faced included ensuring the InEvent platform works with our organization's infrastructure, which we accomplished with a lot of testing. I also helped ensure other areas of our Information Technology (IT) team have a good understanding of the platform as well as the included protocols and security.
"Another challenge we faced was attempting to anticipate what kind of experience our users will have with this platform," Pelky continued. "So, we worked with the Communications team to try and make this entire experience as easy to understand as possible for our users. For example, our staff worked on a broadcasting issue within the system and in working with the security team they gained a good understanding of the issue and were able to deal with it. In working with technology like this, there are so many layers that need to be understood before the product can be released to our membership.
"Overall, I feel this project is going well and I'm confident that the membership will be able to hear what the OBC needs to share with them, and that they will be able to vote on issues involving our Nation."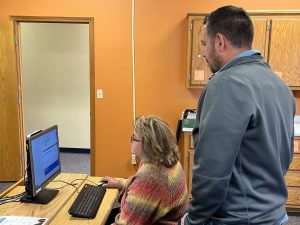 Eric Bristol, DTS Manager of Applications Solutions, shared Pelky's view on understanding the InEvent platform. "The biggest challenges we've seen are getting familiar with the platform," Bristol explained. "It's similar to some of the other conferencing tools we use like Microsoft Teams or Zoom, but it's also different in many respects. Once all the staff and members are familiar with the different icons, like raising your hand or muting, this is going to go very smoothly."
The DTS Division contains multiple areas of expertise within their realm, and this project has tested that expertise to a person. "Forrest has been doing a lot with the streaming side of the meeting, and we also have Network Services Supervisor Tony Doxtator. His team has been monitoring network traffic to ensure we have enough bandwidth to support this meeting in the Community Education Center (CEC) and the OBC Conference Room. His team has also increased the number of wireless hotspots in the OBC Conference Room to make sure it'll support the level of streaming needed for all the OBC members and their staff," Bristol said.
"Members of our Information Security Team have been dealing with firewall challenges to ensure that anybody who connects to the tribal network will be able to get to the InEvent platform without any issues," Bristol continued. "Members of our Desktop Services and Customer Service Center team have been working to update the computers at CEC, and they've been updating the GTC laptops that members will use if they don't have internet access or devices themselves. So, this has really been an effort across the board from a DTS standpoint of helping support this project."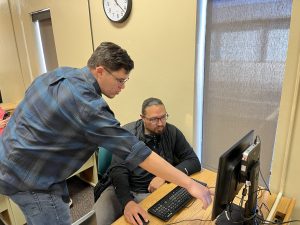 In addition to the DTS team, the Nation's Government Administrative Office (GAO) staff have also participated in the rolling out of this new concept. Government Information Services (GIS) Project Coordinator Jameson Wilson, Web Content Administrator Xavier Horkman, and Sr. Communications Specialist Christopher Johnson have contributed to the system testing and messaging in the weeks before this first-of-its-kind meeting in Oneida.
"We've been conducting a lot of testing to ensure the viewers have connections with whatever device they may be using whether it be a cell phone, a laptop, or a desktop," Wilson said. "We want to ensure the viewer is having a good experience and is able to see the live stream as it's broadcasted.  We're also making sure the live stream is smooth on the OBC's end as well so they're able to perform their wide scope of functions like facilitating the meeting in a good way and getting through the agenda without any troubleshooting errors."
Other behind-the-scenes personnel involved in the workup process are happy with the overall team effort and are confident this new virtual approach will successfully allow the GTC to convene. "The collaboration I've witnessed with this project has been great," OBC Executive Assistant Danelle Wilson said. "The team working behind the scenes to make this a success have been putting in some hard hours to ensure all of the technological challenges are getting worked out. The Chairman's office lives by the saying 'teamwork makes the dream work' and the collaboration I've witnessed has been refreshing.
"I was excited to be a part of the first few test runs as I know this was a long and tedious rollup," Wilson continued. "Technology always amazes me and to be able to have members from all over participate in GTC meetings is the end goal. For all members to have their voice heard and counted is even more exciting. We are more than the average 1,500 voices who would show up for GTC meetings. Now, my aunt who lives in California can participate just as well as I can here on the reservation."
The challenges faced by these teams across the past year in preparation for this new experience are being met with collaborative critical thinking throughout the workup process as each team member works to identify and address potential issues that may arise during this virtual event. InEvent system testing will continue in the days leading up to the November 15, 2022, Virtual GTC Meeting.