Oneida Nation photos
Oneida Nation Councilwoman Jennifer Webster (front row, white shawl), along with leaders from the 11 federally recognized First Nations in Wisconsin, met with Governor Tony Evers in Keshena November 19 to provide updates on tribal issues happening across the state.
Government Administrative Office
As part of the Oneida Business Committee's (OBC) Broad Goals of Government Roles and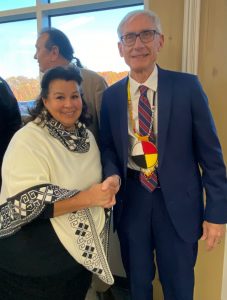 Responsibilities, Councilwoman Jennifer Webster, along with tribal leaders from across Wisconsin, met with Governor Tony Evers October 19 at the Menominee Family & Engagement Center in Keshena. The meeting provided an opportunity for leaders to share ideas and provide tribal updates to the governor in-person for the first time since the beginning of the COVID-19 pandemic. Governor Evers had been holding monthly virtual calls with tribal leadership prior to this engagement.
"Since Governor Evers took office, we (tribes) have consistently had direct communication with him, and the State-Tribal relationships have shown to be a priority for his administration," Councilwoman Webster said. "Governor Evers' direct actions have benefited all tribes across the state and this is recognized and greatly appreciated."
Webster provided updates to the governor on issues the Oneida Nation is currently involved with, including the upcoming Supreme Court hearing regarding the Indian Child Welfare Act (ICWA) of 1978. "I informed him that the Oneida Nation is gearing up to send a delegation to Washington, D.C., Nov. 9 to hold a prayer service with the other First Nations on the steps of the United States Supreme Court building. Governor Evers is fully aware of what is happening with that hearing and he understands that the potential outcome of the hearing could have devastating impacts on all First Nations."