Jennifer Webster photos
Navajo Nation President Jonathon Nez (center) joins U.S. Health and Human Services Secretary Xavier Becerra (left) as he administers the oath of office to Navajo citizen and newly appointed IHS Director Roselyn Tso during the 2022 National Tribal Health Conference in Washington, D.C. Oneida Nation Councilwoman Jennifer Webster had the opportunity to meet Tso and extended a personal invitation to visit the Oneida Nation Reservation.
Government Administrative Offices
Oneida Nation Councilwoman Jennifer Webster was in Washington, D.C., for the 2022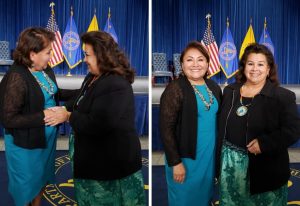 National Tribal Health Conference September 26-28. Hosted by the National Indian Health Board (NIHB), Webster represented the Oneida Nation as part of the Business Committee's Broad Goals of Health and Safety, Culture and Language, and Government Roles and Responsibilities.
The 50th Anniversary of the National Tribal Health Conference brought numerous Native Nation's leadership together for workshops and listening sessions for the purposes of advancing tribal sovereignty.  One of the Oneida Nation's intended goals is the expansion of Self-Governance into Health and Human Services Programming beyond the purview of Indian Health Services (IHS).
"I was invited to share the tribal perspective on the Administration for Children and Families Tribal Advisory Committee (ACF-TAC) work I've been doing," Councilwoman Webster said. "I was on a panel with the Jamestown S'Klallam Chairman, an attorney, and a Self-Governance Coordinator from Choctaw, Oklahoma. We shared our views on Self-Governance within tribes, and within our own Self-Governance Compact we are able to redesign programs that fit our needs here in Oneida."
In addition to participating on the Respecting Tribal Sovereignty panel, Webster also presented on Accelerating Tribal Health/Expanding Tribal Self-Governance at the Department of Health and Human Services as well as Legislative Strategy and Next Steps discussion groups. "Presenters were able to share the draft legislation that a tribal workgroup has developed and provide updates on the most recent efforts with Congress and the Biden Administration."
While participating in the annual conference, Webster also had the honor of attending new IHS Director Roselyn Tso's Swearing In Ceremony. Tso is the first Navajo Nation citizen to hold the position and the agency's first permanent leader in more than two years. "I was able to catch her for less than two minutes, so I took the opportunity to invite her to Oneida to see our programs and services firsthand. The work Oneida is doing with taking the lead on the ACF-TAC Strategic Plan is what really got us invited onto the NIHB panel."