Oneida Nation photos
Oneida Business Committee (OBC) Councilmembers Daniel Guzman King, David Jordan, and Marie Cornelius join Chairman Tehassi Hill and Vice Chairman Brandon Stevens following the unveiling of the first dual-language highway signage to appear on the Oneida Reservation adjacent to the Hwy 54 Duck Creek Bridge.
Government Administrative Offices
The Oneida Nation, in partnership with the Wisconsin Department of Transportation (WisDOT),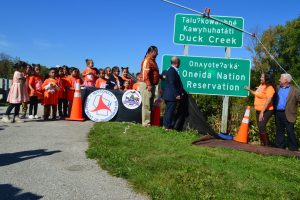 unveiled their first dual-language highway signs September 30 on the westbound side of the Duck Creek Bridge (WIS 54) and the southbound lane of County Hwy C just across from the Oneida Nation Farm. The unique signs are also emblazoned with the Official Seal of the Oneida Nation. A brief ceremony took place for the unveiling of the WIS 54 sign (written in Oneida and English) that included guest speakers from the Oneida Nation, WisDOT, and the Federal Highway Administration. Children from the Oneida Language Nest and drum group Buffalo Creek also participated in the special occasion.
Oneida Nation Chairman Tehassi Hill, Vice Chairman Brandon Stevens, and Councilmembers David Jordan, Marie Cornelius, and Daniel Guzman King were on hand as part of the Oneida Business Committee (OBC) Broad Goals of Education, Culture and Language, and Government Roles and Responsibilities. "This helps us kick off our 200-year celebration of being located in Wisconsin," Oneida Nation Chairman Tehassi Hill said just prior to the Hwy 54 sign unveiling. "Councilwoman Cornelius working with the Wisconsin Department of Transportation (WisDOT) and the Federal Highway Administration to get this milestone accomplished is a testament to the great working relationships that are possible. To have our Oneida language displayed in and around our community is great to see, and to have the participation of the children from our Oneida Language Nest is heartwarming."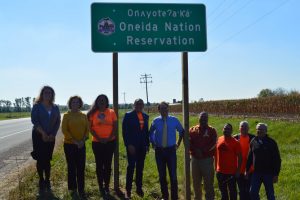 "Oneida has been waiting for this day for a very long time," Councilwoman Cornelius said. "The Oneida language is the core of our traditions, culture, and ceremonies. It's good to see (these signs) in a place where people are welcomed to our reservation every day. I agree with Chairman Hill in that this is a great achievement for the WisDOT team and our team of professionals."
Oneida is now the first Native Nation in the Northeast Region to have local jurisdiction signs installed on their reservation. As such, Cornelius took a few moments to recognize the hard work of Tribal Historian Stacie Cutbank, Legislative Affairs Lobbyist Tana Aguirre, Community Development Manager Troy Parr, Cultural Advisors Bob Brown and Randy Cornelius, and Intergovernmental Affairs Director Melinda Danforth.
"We thank all of these people and everybody else involved for all their hard work in helping bring this project to fruition," Cornelius continued. "This sign will bring some identity to our community, and our children who are working to sustain our native language will have another physical reminder that our language is alive and still here. Oneida is proud of Wisconsin for taking this project forward and working with us as a sovereign nation, and we are grateful for being able to build intergovernmental partnerships that foster good relations."