Oneida Nation photo
Wisconsin Senator Robert Cowles, Oneida Nation Councilmembers David Jordan and Marie Cornelius, and WisDOT Secretary Craig Thompson perform the ceremonial ribbon cutting for the WIS 29 and County VV interchange located just west of Maplewood Meats. The six-year project nears its completion on time and on budget.
Government Administrative Offices
After six years of consultations and construction officials from the Wisconsin Department of Transportation (WisDOT), Oneida Nation, Federal Highway Administration, Brown County, Village of Howard, and Village of Hobart came together September 28 to celebrate the nearing completion of the WIS 29 and County VV interchange project located just west of Maplewood Meats on Highway 29. Oneida Nation Councilmembers David Jordan and Marie Cornelius attended the ribbon cutting event as part of the Oneida Business Committee (OBC) Broad Goals of Government Roles and Responsibilities.
"This has been a two-term OBC initiative and it's nice to see this project come to fruition," Councilman Jordan said. "We're a part of the community as well so it's also nice to finally have our name right on the DOT highway signs, because before this project there were no exit signs indicating directions to Oneida."
As the Oneida Nation liaison with the WisDOT, Councilwoman Cornelius is also proud of the project.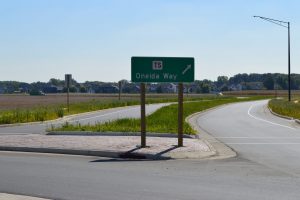 "This is an excellent project that is finally finished," Cornelius said. "To also have our name on transportation signage near the interchange and on the highway is a wonderful thing to see."
"This was literally a partnership with us working with the Brown County Planning Department years ago to put pieces in place to leverage some of our opportunities as a sovereign nation to bring different sources of funding for this project," Oneida Nation Community Development Manager Troy Parr said. "One of the major contributing factors to this project was our acquisition of 80 acres of agricultural lands in that area which we used a portion of to contribute to the right-of-way that made that connection to the reservation from the highway.
"Supporting the project going around the reservation gives us access to that infrastructure that supports our economy, but it doesn't disrupt the reservation," Parr continued. "Infrastructure can be a double-edged sword in that it's an on-ramp and off-ramp for economic development, business development, and sources of revenue through the transportation sector. However, with that comes a whole lot of traffic and further development that could end up being counterproductive to business. But this infrastructure transportation installation like this on Hwy 29 and VV is well thought out and it's in a good spot because it doesn't eat up a lot of land."
Tom Bucholz, Director of WisDOT's Northeast Region, referred to the interchange project as 'the new gateway to help with commerce and business on both sides of the new diamond interchange'. "This new interchange is a testament to the ingenuity of the construction professionals who built it and the professional engineers who designed it," Bucholz said.
"I've lived in and built roads in Northeast Wisconsin for two decades and I remember when this area was quite sparse. That's certainly changed. Proper planning, foresight, and diligence in creating a safer and more efficient local road system makes this a premier location for businesses seeking economic opportunity," Bucholz said. "This outstanding project is a direct result of the combined efforts of the partnership between federal, state, local, and tribal governments. This illustrates when dedicated people work together, great things can be accomplished."
WisDOT Secretary Craig Thompson also credits Wisconsin Governor Tony Evers' Administration with helping advance the project. "This project is part of the governor's commitment to improving our transportation statewide," Thompson said. "This project will be completed in mid-October, this project finishes right on schedule which is very impressive considering the scope of this work, and more importantly this project finishes on budget."