Oneida Nation photo
Government Administrative Offices
Accepting an invitation from the Green Bay Packers organization, Oneida Nation Chairman Tehassi Hill and Councilwoman Marie Cornelius will be taking an all-expenses-paid trip to England with the famed National Football League (NFL) franchise as they make their European debut Sunday, October 9, 2022, in London against the New York Giants. With the 'Green and Gold' picking up the entire tab, minus meals, the Oneida Business Committee (OBC) views this as an opportunity to represent the Nation as they continue to network with high profile business leaders and build face-to-face relationships the world over. This participation aligns with the Government Roles and Responsibilities of the OBC's Broad Goals.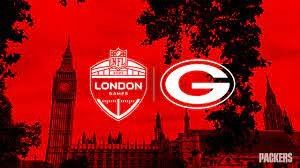 Sports tourism, defined as the act of traveling from one locality to another with the intention of being involved with a sporting event or activity, is a fast-growing segment within today's global travel industry. Attending this event will allow the tribe's leadership to enhance the overall image of the Oneida Nation, thus making the tribe more visible, expand domestic and foreign connections, and develop long-lasting relationships.
"For me the biggest part is to continue fostering those relationships we've built with the Packers," Chairman Hill said. "The Packers bring a lot of opportunities with their other business partners in the community who are usually included in these types of events. So being present and making those kinds of connections really helps the Nation as we move forward with our agenda for our community. These things are much easier to accomplish when we have these established relationships around us. Partners could make us aware of happenings, so it's much like having a network of political alliances in different areas. There's always a friend of a friend that's willing to be helpful.
"The public presence of Oneida Nation leadership over the last five years has been a tremendous boost for the tribe," Chairman Hill continued. "Having our faces out there at Greater Green Bay Community events and having regular conversations with partners are highly beneficial for Oneida. Many people don't know the types or levels of service we offer our tribal community and how they affect other communities around us, in that they may help alleviate some stresses on their resources or programs. Many times people don't know we have a school system or provide our own health care, so that educational point is key because most people know we have a casino, but that's about it. But we do and offer so much more than that."
International networking is also on the agenda for the trip. "We're always working with the Green Bay Visitor and Convention Bureau to bring different tourism groups to our area," Chairman Hill said. "The more people we can get staying at our hotel, visiting our casinos, going on our tours, the better off and financially stronger we are. This is a great opportunity provided by the Packers organization because we've slowly built these relationships over a few decades and we're finally being asked to attend one of their premier events. Again, for me, this is about continuing to foster those relationships."
"Being invited to a major football game in another country is a once in a lifetime opportunity for any community representative especially when 99 percent of the expenses, minus meals, are paid for," Councilwoman Cornelius said. "As a councilmember for the Nation, I am exposed to many neighboring governing officials, business owners, and community advocates. Ideally these encounters are an opportunity to educate outside community representatives on who we are and to better understand us as a Nation. These opportunities assist both us and them in understanding each other's perspective on shared topics. This is accomplished by attending neighboring community events, local chamber events, summits, and conferences locally and far away.
"Having this invitation extended by the Green Bay Packers franchise reflects that their organization is committed to being good stewards by building community relationships with all their neighbors, including the Oneida Nation," Cornelius continued. "Again, this will be another opportunity to continue strengthening and enhancing relationships while being recognized for our contributions. I am honored for the opportunity and thrilled that the Oneida Nation was invited to 'sit at the table.'"