Oneida Nation Chairman Tehassi Hill delivers the opening address and prayer for the Oneida Behavioral Health Department's joint "Kunhi-yo' 'I am Healthy' event with White Bison, Inc.'s, Wellbriety Movement. The free seminar drew in hundreds of participants throughout the all-day event.  
Government Administrative Offices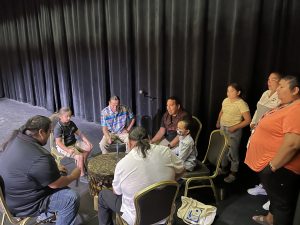 International Overdoes Awareness Day was recognized August 31, 2022, and several Oneida Nation leaders were in attendance as the Nation's Behavioral Health Services and the Wellbriety Movement hosted their "Kunhi-yo' 'I am Healthy' Hope 2022" overdose prevention event at the Radisson Hotel & Conference Center. The gathering included guest speakers, overdose education, activities, resources, and support services. Chairman Tehassi Hill and Councilmembers Jennifer Webster, Marie Cornelius (formerly Summers), Kirby Metoxen, and Daniel Guzman King were on hand for the seminar in support of the Oneida Business Committee's (OBC) Broad Goals of Health and Safety.
"Our Health and Safety Broad Goals tie with Overdose Awareness Day which, technically, should be every day," Chairman Hill said. "There have been a number of Tribal Action Plan (TAP) surveys conducted in our community in years past to ascertain what's really happening here, and in doing so they've raised awareness of the issues surrounding opioid and meth abuse. One way of dealing with this problem is building that knowledge base on the issue and acknowledging that we all individually, not just as a Nation, must do a part to move forward and help those in need with these addictions. We must assist those who are struggling to help bring them back into the fold to become healthy and productive members of our community again."
Those in attendance were impressed with the depth of information presented. "The program they put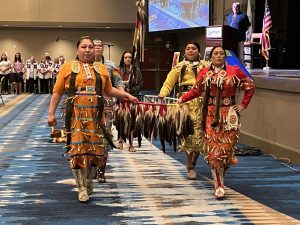 together for our community was phenomenal," Councilwoman Webster said. "The Color Guard brought in the flags, our dancers brought in the sacred hoop, our hymn singers shared some of their beautiful songs, and speaker Don Coyhis gave a 'Hope and Healing' presentation to help open our eyes to the fact that we may have a problem here on the reservation. We have drug and alcohol addiction, domestic abuse, historical trauma, all these things that we as Native people live and deal with daily."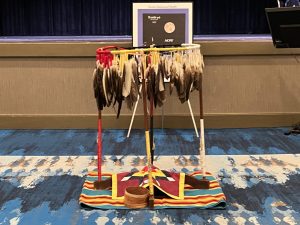 Coyhis, of the Mohican Nation, is the President and Founder of White Bison, Inc., a non-profit organization whose original mission was to raise awareness and treat alcoholism among Native youth.  White Bison's mission has since expanded to include substance use disorders, dysfunctional families, and suicide prevention. This expansion gave birth to the Wellbriety Movement which goes beyond sobriety to include becoming emotionally, mentally, physically, and spiritually balanced.
"I absolutely loved this experience and I thank Oneida Behavioral Health's Shannon Hill for pursuing this event for our community," Councilwoman Cornelius said. "The guest speaker's presentation had some very interesting points and brought a lot of understanding for me. At the end of the day the presentation suggested having tribal citizens rise up on their own and take responsibility for their communities when fighting substance abuse. Don't wait on tribal governments or anybody else to do this for you, it's up to us as individuals to improve our communities.
"Everything centered around healing," Cornelius continued. "We received information on how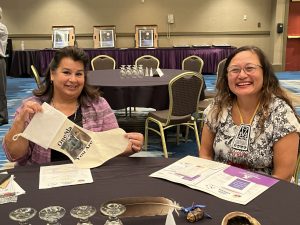 historical trauma is genetically carried forward through generations, so we need to reach back to our traditional culture. When people understand and are active cultural participants in such things as where we come from, how we do things in our community, and our longhouse ceremonies, these are things that really help a person find their identity. I really think this 'Kunhi-yo'' event was a fantastic steppingstone in the right direction."
Individual involvement in the recovery of a community is a common theme for 'Kunhi-yo''. "This is very much like a grassroots movement," Councilman Metoxen said. "Often times community members want to blame elected officials for recovery efforts, treatment, and for change. White Bison teaches a different approach in that change comes from the grassroots people. Individuals are the ones who need to make change. I appreciate this philosophy because people are waiting for change and expecting elected officials to do that for them and it's not that simple.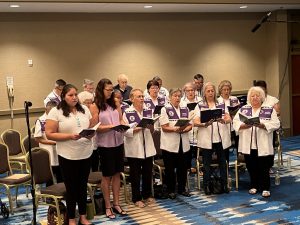 "Grassroots movements, however, can make these kinds of changes much easier than governments can," Metoxen continued. "The Bureau of Indian Affairs isn't going to show up and do this for us either, so I appreciated the grassroots message of the meeting. The Oneida singers were uplifting for me, as were the speakers from the traditional Native American Church and the sweat lodge. We must have anywhere from six to a dozen sweat lodges spread throughout the reservation which are available for tribal members to reconnect with their culture."
"Attending events like 'Kunhi-yo'' is an important step in our healing journey," Councilman Daniel Guzman King said. "It is critical that we as a community and Nation stop what we are doing on a daily basis to listen, learn, grow, pray, and heal. If we continue on with our everyday lives without making an intentional effort to change, better ourselves, and help one another then we will remain in a sick cycle of reoccurring trauma."
An Oneida Nation TAP You Tube PSA shows there were approximately 20 Oneida community overdose-related deaths in 2020-2021. "Throughout (that period), Oneida Behavioral Health staff had distributed over 160 doses of Narcan in an effort to save our relatives lives," Oneida Nation Treasurer Cristina Danforth says in the video. Click the following link to view the PSA: TAP PSA – YouTube.
If you or anybody you know is struggling with addiction, help is available through a number of sources. Oneida Behavioral Health Triage Counselors can be reached at (920) 490-3860 during office hours. After hours calls are forwarded to the Brown County Crisis Center for immediate attention at (920) 436-8888. The Outagamie County Crisis Center can be reached at (920) 832-4646. The Suicide Prevention Lifeline number is 1-800-273-8255, or simply dial 988. To learn more about White Bison, Inc.'s, Wellbriety Movement please visit Wellbriety Movement Products.