Oneida Nation photo
Ashwaubenon Village President Mary Kardoskee and Oneida Nation Chairman Tehassi Hill chat prior to the kickoff of the village's 150-year sesquicentennial celebration. In addition to Chairman Hill giving the opening Thanksgiving Address, the Oneida Nation Smoke Dancers provided a riveting performance for the audience of several hundred.
Government Administrative Offices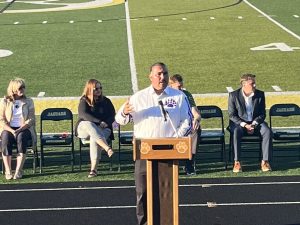 Oneida Nation Chairman Tehassi Hill was on hand Monday, August 8, 2022, to help friends, neighbors, and Village of Ashwaubenon officials kick off their week-long 150th year sesquicentennial celebration at Ashwaubenon High School's Goelz Field.  The Oneida Business Committee's Broad Goals of Government Roles and Responsibilities include the continued fostering of productive and healthy intergovernmental relationships with surrounding municipalities, and the village has proven to be a wonderful neighbor.
"I would like to congratulate the Village of Ashwaubenon on celebrating their 150th anniversary and thank Village President Mary Kardoskee for the invitation," Hill said during the opening of events. "I would be remiss not to acknowledge the land we're standing on today is the original territory of the Menominee and Ho Chunk Nations. The Oneida Nation's ancestral home is in what is now known as New York, and it's been about 200 years since we moved here and we are proud to be your neighbors."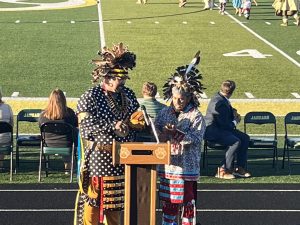 Other activities featured during the opening ceremony included the show-stealing Oneida Nation Smoke Dancers, Green Bay Packers Lumberjack Band, free Baskin Robbins ice cream, the Ashwaubenon VFW performing the colors ceremony, and presenters President Kardoskee, Chairman Hill who performed the Haudenosaunee Thanksgiving Address, Green Bay Packers President and CEO Mark Murphy, and Ashwaubenon School District Superintendent Kurt Weyers.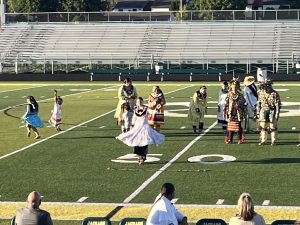 "Our people moved here about 200 years ago, so we've been here since before this was even known as the State of Wisconsin," Hill said. "However, we've had a number of municipalities grow up around us over the many years and Ashwaubenon has been with us now for 150 years. We've always had a good relationship with each other between the Nation and the village, and we want to strengthen those relationships as we continue to build upon them and become even better neighbors and partners."
Celebratory events will be taking place in the village throughout the week before wrapping up Sunday, August 14. Activities will include a scavenger hunt, building and facility tours, a talent show, free music, and much more. To view a full schedule of events please visit https://www.ashwaubenon.gov/150/schedule-of-events.