Photo courtesy Heidi and Jason King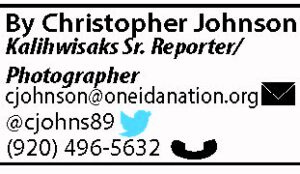 The life of a college student can often be hectic and uncertain. Many graduates will humorously recount tales of changing their majors one, two, maybe even three times before deciding on a solid career path. For Oneida Nation citizen and 2021 St. Norbert College (SNC) graduate Sophia King, finding her perfect fit took until her junior year. But once she found it, she instantly knew it was what she wanted to do.
"I didn't know I wanted to do graphic design until my junior year," King, 23, says with a laugh. "I switched it a few times because I was in Fine Arts and for some reason I just wasn't feeling it. A few years ago I got an iPad for Christmas, and I just started messing around and doing graphics stuff on it and I thought, 'Ooh, I really like this.'"
Making the switch to graphic design makes sense as she comes from an artistic family. "My mom is very artistic and she and I were always doing art-related things when I was young. All of my previous jobs involved little ones, so I thought, 'Oh, I want kids in my life,' but I forgot I'd have to teach math, so I put that one to rest for the time being because I am not a math person by any means," King says with a laugh.
Making and leaving her graphics mark on the campus of St. Norbert College tangibly demonstrates her abilities. "I designed the Reserve Officer' Training Corps (ROTC) shirt for my friends in the SNC chapter," King said. "The campus library then reached out to me to help design buttons for voting, and I also designed our DIII Athletic shirts for our college. That was so cool because every athletic program person on campus wore that shirt for an entire day and seeing it all over was amazing for me."
King's work experiences since graduation almost all centered around children until she found her way to Big Bear Media. "I worked as a golf instructor teaching kids how to golf, and then I landed a position working at Oneida Head Start as a teaching assistant," King said. "The entire time I was looking for graphics positions, but everywhere I looked had a frustrating experience requirement. I didn't know how I was supposed to gain any experience if I couldn't get my foot in the door working in this field."
Her job search stretched into fall and eventually winter when her parents came across a graphics position job posting for Big Bear Media. "I wasn't familiar with the department, but when I saw the listing for a post-graduate graphic artist, I got very excited because I instantly knew that was me," King said. "I had grown attached to the kids at Head Start but I knew I needed this job to finally get the experience I needed in this field."
Her interview experience for the position was nerve-racking to say the least. "I didn't think I did very well because I felt my art was a little different, but I made Michelle Danforth and Eric Doxtator laugh during the interview and fortunately they decided they liked my work," King said.
King's been hard at work learning the ropes at the Oneida Print Shop. "I've been helping with the printing process making business cards and printing gaming posters," King said. "I'm also helping with the revamped Apple Orchard designs and having them approved by Michelle and Eric. It's been challenging making everything flow together and learning how to do job tickets, but it's simply a matter of repetition for me."
The past few months have been challenging, but King is grateful for the opportunity. "I've never worked on the printing side of things but I've been learning the machines in the back of the print shop," King said. "I find the whole process to be so cool. I really like it. All my friends and family are so thrilled for me because I'm actually using my degree for something that I really enjoy."
King is the daughter of Heidi and Jason King of Oneida.