Photos courtesy Kalihwisaks/Christopher Johnson, D.King of Images
Oneida VFW Post 7784 Commander (Ret) Cletus Ninham (right) presents his gavel to incoming Cmdr. Deke Suri (left). Suri takes charge of the post following 17 years of service from Ninham that saw numerous positive changes made to an already exceptional post.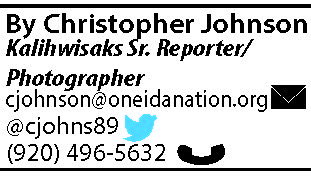 After 17 years of leading the Oneida Nation's Robert Cornelius Veterans of Foreign Wars (VFW) Post 7784, Commander Cletus Ninham has decided to call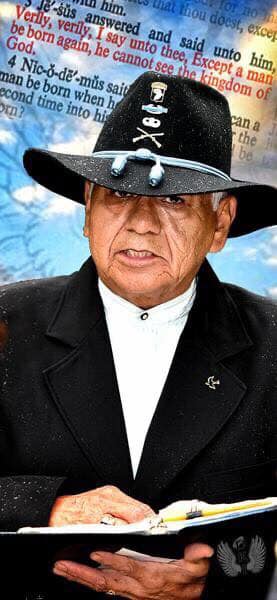 it a career. Ninham, who turned 78 years young April 16, announced his retirement during the April 5 VFW meeting, during which he and the other members of Post 7784 formally honored Oneida Warriors who served in the Korean War.
Across the years Ninham, a Vietnam Veteran, has become one of the most recognizable warriors from the Oneida Nation since he took the reigns as Post Commander in 2005. He immediately went to work implementing positive changes that are clearly visible today.
The original VFW building on East Service Road, which stood since the founding of Post 7784 in the 1940s, was in a state of extreme deterioration, and Ninham kickstarted the process of having a new facility built. "We began the push in 2008 to see if we could receive an upgraded building, and fortunately we received everything we needed financially to make the new facility happen," Ninham said. "Not only did we receive the new facility, Chairman Rick Hill was instrumental in our acquiring some of the adjacent property as well."
Formal Oneida Warrior recognition was another change Ninham brought about. The 2002 movie 'Windtalkers,' starring renowned Native actor Adam Beach, brought to light the unquestioned roles Native Americans played in the United States' victory over Japan in World War II. Indigenous warriors who fluently spoke their Native languages were recruited to use their tongues as Code Talkers, and the Japanese were never able to decipher their messages. Several Oneida Nation Warriors, virtually all of whom were too humble to ever talk about this piece of amazing history to their families, served as Code Talkers.
Ninham worked with Post 7784 Historian Chris Cornelius to uncover and honor these Oneida Warriors, and in 2013 a Congressional Gold Medal Code Talkers coin was produced by the United States Mint and presented to these veterans in recognition of their dedication and valor. The Oneida Nation followed up by proclaiming the Friday before each Memorial Day as Oneida Code Talkers' Day, now an annual tribal holiday. "My uncle Lloyd Schuyler was a Code Talker and he was told to never reveal any information about what they did, so he never talked about it. He kept it quiet," Ninham said.
As Ninham worked to increase membership in the VFW, involvement in community youth activities like the annual Boo Bash, Breakfast with Santa, and other fundraisers became normal occurrences. Requests for military Color Guard details from the post have increased dramatically, and military bearing at all VFW functions and meetings bring credit to the organization. "When our men and women wear our VFW uniforms, they are representatives of the Oneida Nation and our post," Ninham said. "Our members know how to conduct themselves in a professional manner. We're recognized as one of the best posts out there."
Memorial Day 2022 Color Guard details from Post 7784 will present at nine cemeteries, the Anna John Resident Centered Care Community, the Oneida Veterans Wall, and this year Fleet Farm West has asked to become a location as well.
Oneida VFW meetings are held the first Tuesday of every month and new members are always welcome to join. Anybody who has served in a military conflict as a member of the United States armed forces, tribal or non-tribal, are encouraged to contact the post at (920) 869-7784 if interested in joining the organization. "We do need younger members to join, because many of us older guards are getting too old to continue doing all the fundraisers and activities we are tasked with," Ninham said.
Post 7784 is one of the few VFWs in the area that is 100 percent alcohol free, and Ninham is proud of this fact. "We all have veterans that are suffering from PTSD and other ailments, and they're on all kinds of medications to combat those issues," Ninham said. "Then if we turn around and add alcohol to that mix, that's just looking for trouble. So that's how we looked at that issue, and in trying to set a good example to our youth we want to convey the message that drugs and alcohol don't mix. There's so much more in life that can be accomplished if they stay away from that stuff."
Although he is stepping aside as commander of the post, Ninham will still be visible at meetings. Being a part of something for many years is hard to walk away from, and there are many things he will miss, one thing in particular. "There are so many things with this that I've enjoyed," Ninham said. "But above all else, it's the meeting of people that I've really enjoyed. Over the last few years I've really needed somebody else to step up, because what more can I do. I feel I've done just about all I can do."
Ninham leaves Post 7784 in good, energetic hands. Deke Suri, a veteran of Iraqi Freedom and multiple combat deployments to the Middle East, takes over as Commander of the Oneida Nation VFW Post 7784. Suri will be the focus of a Kalihwisaks feature story in the near future.