Photos courtesy Christopher Johnson, James Kelly, D.King of Images
Oneida Nation artist Rae Skenandore proudly displays some of her artwork. Skenandore, in recent years, has discovered a love for producing traditional baskets and other forms of Native art.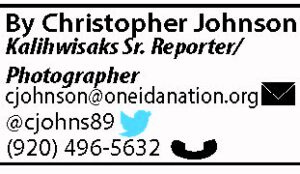 Discovering new passions a little later in life can often bring a fulfillment for people who feel they are missing something in their life. In recent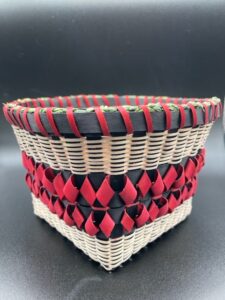 years Rae Skenandore, an Oneida Nation citizen and career tribal employee, has found that she absolutely loves producing traditional art and teaching eager learners following the passing of her father in 2017.
"Way back when we used to have summer school at Norbert Hill Center I took a basket making class and that was the only one I made for probably 40 years," Skenandore said. "In 2015 my father, Don Domencich, was diagnosed with terminal cancer. I would spend most of my free time going back and forth to Sturgeon Bay and attending his doctor's appointments with him and helping arrange home health care."
While helping take care of her father, a close friend knew Skenandore was under an extreme amount of stress and, knowing of her growing interest in traditional basket making, signed her up for a class through the Oneida Arts Program. "My friend Mary knew I wanted to learn so she told me to get over there and pay for it before they charged her for the registration," Skenandore said. "So the first basket I made since I was a child was made in February 2017. I gave that one to my son and his fiancée for their wedding card basket in 2018. My father walked on in June 2017, but by the end of that year I was weaving again and learning as much as I could."
Jumping headfirst into her new passion, Skenandore began learning how to work with Black Ash, Sweet Grass, Willow, Cedar, Pine needles, and Birch. Her mother, Loretta Webster, and stepfather, Stan Webster, were so enamored with Skenandore's skills that they began encouraging her to enter art shows. In time she gained the confidence to enter her first competition – the 2019 Woodland Indian Art Show, and she hasn't looked back.
"My original intentions were to produce three jingle dance sisters as they represent healing," Skenandore said. "So the first piece I made for the competition was called 'Healing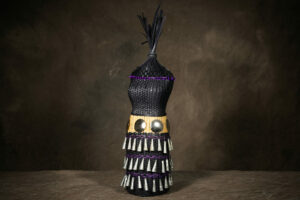 Dancer,' and she was in black shaped like a female jingle dress dance with the jingles. 'Healing Dancer' ended up winning Theme category Native Women. I was so thrilled when the Neville Public Museum approached me about purchasing her to be part of their permanent display."
2019 turned out to be quite the eventful year for Skenandore as she followed up her impressive Woodland Indian Art showing with a First Place Sculpture and Best of Show finish in the Northern Woodland Art Show in Hayward, Wis. Later that same year she also took the Best of Division Contemporary Basketry & Innovator Award at the Cherokee Art Market in Tulsa, Okla.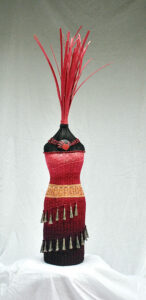 A 2020 Honorable Mention at the Ganondagan Hodinohso:ni' Virtual Art Show in Victor, NY, segued into her return to the 2021 Woodland Indian Art Show and Market where Skenandore displayed her second jingle dress dancer, this one adorned in red. Named 'In Memory,' Skenandore produced the dancer to be a sister piece to 'Healing Dancer' and to call attention to the Missing and Murdered Indigenous Women (MMIW) crisis occurring across Indian Country. 'In Memory' took First Place in the 3-Dimensional Art Category and won Best of Show.
Fast becoming a rising star in the world of Indigenous art, the Wisconsin Visual Arts Achievement Awards (WVAAA) Committee has reached out to Skenandore and informed her that she has been selected to receive their 2022 Emerging Artist Award. "I understand the WVAAA is one of the oldest arts organizations in the state of Wisconsin and has been around since the early 1900s," Skenandore said. "They've also asked me to possibly teach at a museum this coming summer."
Skenandore holds a degree in business, and while some may not see a correlation between the world of finance and traditional Indigenous art, she readily sees the connection. "I love numbers so if you know anything about basket making it's all about numbers and patterns so it's a very good fit," Skenandore said. "I really thank the Oneida Arts Program and the Woodland Indian Arts Show for giving me my start. I really don't know that I would have sought out how to make traditional baskets again if it weren't for Mary and the classes that are being offered here. Not to mention how encouraging Beth Bashara was for me."
With her recently acquired basket making knowledge and art show experiences, Skenandore has decided to make a commitment to teaching future generations of Indigenous artists. "I love teaching so much that I've begun instructing for the Oneida Arts Program," Skenandore said. "I had a student who was so impacted by the classes because she was just getting into it and she was so eager to learn. She was taking monthly classes and after the first class she told me she went home and became very emotional about the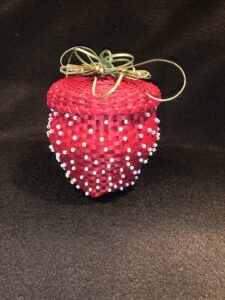 basket she got to make. She was so happy and so touched that she almost brought me to tears."
Anybody who has ever been an instructor knows we all still have much to learn. "I'm still learning from everybody including my students," Skenandore said. "I continue to research things and even take my own classes, and now I've even started making brooms. Teaching is the natural progression from learning in this endevour."
Knowing how she finally acted on her desire to begin creating art after so many years, Skenandore wants to encourage others who've contemplated artistic creativity to go for it. "I really want people to give it a shot," Skenandore said. "For some people it's actually very easy while some others may struggle. I encourage those who enjoy this to keep at it and to keep sharing it."
As her artistic popularity begins to soar, Skenandore's work is now being held in several private and public collections including the Neville Public Museum, which hosted the 2021 "Reviving Traditional Arts of the Oneida" exhibit in 2021. Some of her works can also be viewed in the main lobby of the Radisson Hotel and Conference Center.