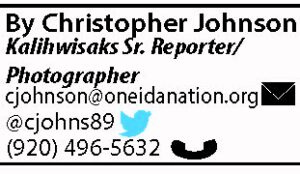 The Oneida man who drove to the Oneida Police Department (OPD) facilities in the early morning hours of February 21, 2021, and exchanged gunfire with a responding officer has been convicted. Carl King, 31, was convicted of Attempted First-Degree Intentional Homicide, Use of a Dangerous Weapon, and Bail Jumping.
King drove his vehicle into the OPD parking lot, got out of his vehicle, and began acting 'erratically' according to OPD dispatchers. Officer Dakota Oskey responded to the OPD parking lot where he immediately encountered King who was standing outside his vehicle. Oskey ordered King to show his hands and get away from his vehicle, however King jumped back into his vehicle. At this point Oskey heard King say words to the effect of "I love you or I'm sorry" to somebody on a phone which made the hair on the back of neck stand up.
King then got back out of his car holding a handgun and fired 2-3 shots in Oskey's direction. Oskey sought cover behind another vehicle and his squad car before returning fire, striking King in the leg. Oskey was not physically injured. King was treated at a hospital for several days before being taken to the Brown County Jail. The criminal complaint states King may have wanted officers to shoot him.
King is due back in Brown County Court May 10 for sentencing.