Community Health Services
 Mission: The Community Health Services Department is a responsive leader in promoting health and preventing disease through collaborative efforts in assessing, planning, implementing, and evaluating services to meet the holistic health needs of our Oneida Community.
Community Health Services
Chronic Disease Case Management, Community Health Representatives, and Home Health Program
Home Care Worker Program and Alzheimer/Dementia Support
Diabetes Prevention Program and Wellness Coaching for making lifestyle changes to improve health and quality of life.
Outpatient Nutrition Counseling, Youth Consultant Services, Breastfeeding Support, and Woman, Infants and Children Program. 
Car Seat Education Clinics, Wellness Education, Immunization Clinics, Communicable Disease Investigation, School Nursing, and Prenatal Care Program.
News & Updates
Oneida Community Health Services – COVID-19 Success Story
Written 10.14.22
The Oneida Nation COVID-19 Vaccine Distribution team has been hard at work the past 2 years, holding COVID-19 vaccine clinics in a variety of locations and offering community members access to the COVID-19 vaccine.  Check out the video below highlighting the work of this team.
---
Monkey Pox in Wisconsin
written 8.2.22
What is Monkey Pox?
Monkeypox is a rare but potentially serious disease that is caused by the monkeypox virus.  Monkeypox virus is from the same family of viruses as the smallpox virus. It is also less severe and transmissible than smallpox. Monkeypox can spread from infected humans, animals, and materials contaminated with the virus.
What does Monkey Pox look like?
Monkeypox is typically characterized by a new, unexplained rash that develops into hard, round, fluid or pus-filled skin lesions. Other early symptoms include:
• Fever
• Swollen lymph nodes
• Muscle aches
• Chills
The Monkeypox rash usually develops within one to three days after fever. However, some people may experience a rash or sores first, followed by other symptoms. Some people may also only develop a rash.
Causes and Transmission:
While anyone can develop and spread Monkeypox after being exposed to the virus, the Centers for Disease Control and Prevention (CDC) reports that most cases of Monkeypox in the U.S. have occurred among gay, bisexual, trans, and other men who have sex with men (MSM). The overall risk to the public remains low.
Monkeypox does not spread easily from person to person. People must have close, sustained contact with an infected person to get the virus. People usually become infected with Monkeypox:
• By having direct contact with the skin lesions or body fluids of an infected person,
• Through sharing items, such as bedding or clothing of an infected person, or
• Through prolonged exposure to an infected person's respiratory secretions.
Monkeypox can also be spread to people from animals through bites, scratches, preparation of meat or use of a product from an infected animal.
Wisconsin has confirmed cases of orthopoxvirus (presumed to be MonkeyPox).  View current data here.
Additional resources:
Information sheet on MonkeyPox
Monkey Pox Symptom Monitoring Sheet
Visit Wisconsin DHS or the CDC for more information.
Sources:
Wisconsin Department of Health Services. (2022, July 29). Monkeypox: Basic information. Wisconsin Department of Health Services. Retrieved August 2, 2022, from https://www.dhs.wisconsin.gov/monkeypox/101.htm
Community Health Assessment & Improvement Plan
2022-2027 Community Health Assessment and Improvement Plan
Click here to view the 2022 Community Health Assessment

For a PDF version, click here.
2017-2022 Community Health Assessment and Improvement Plan
2017 Community Health Assessment (CHA)
2017-2022 Community Health Improvement Plan (CHIP)
COVID-19
Information and Resources on COVID-19
COVID-19 Vaccine
The Oneida Comprehensive Health Division continues to offer the COVID-19 Vaccine at various clinics. Please call 920-869-4840 for any questions.
Looking to hold a COVID-19 Vaccine Clinic at your event or within your department?
Fill out this form and to request a COVID-19 vaccine clinic. To submit, follow the directions listed on the form.
What COVID-19 Vaccine are you eligible for?
Quarantine and Isolation Calculator 
Use this tool to determine how long you need to isolate, quarantine, or take other steps to prevent spreading COVID-19.
Know Your COVID-19 Community Level
COVID-19 Community Levels are a new tool to help communities decide what prevention steps to take based on the latest data.  Levels can be low, medium, or high and are determined by looking hospital beds being used, hospital admissions, and the total number of new COVID-19 cases in an area.  Take precautions to protect yourself an others from COVID-19 based on the COVID-19 Community Level in your area.
Additional Information
For additional information on COVID-19, please visit the CDC or Wisconsin Department of Health Services.
Public Health Accreditation
November 20, 2018 – Oneida Community Health Services achieves public health accreditation!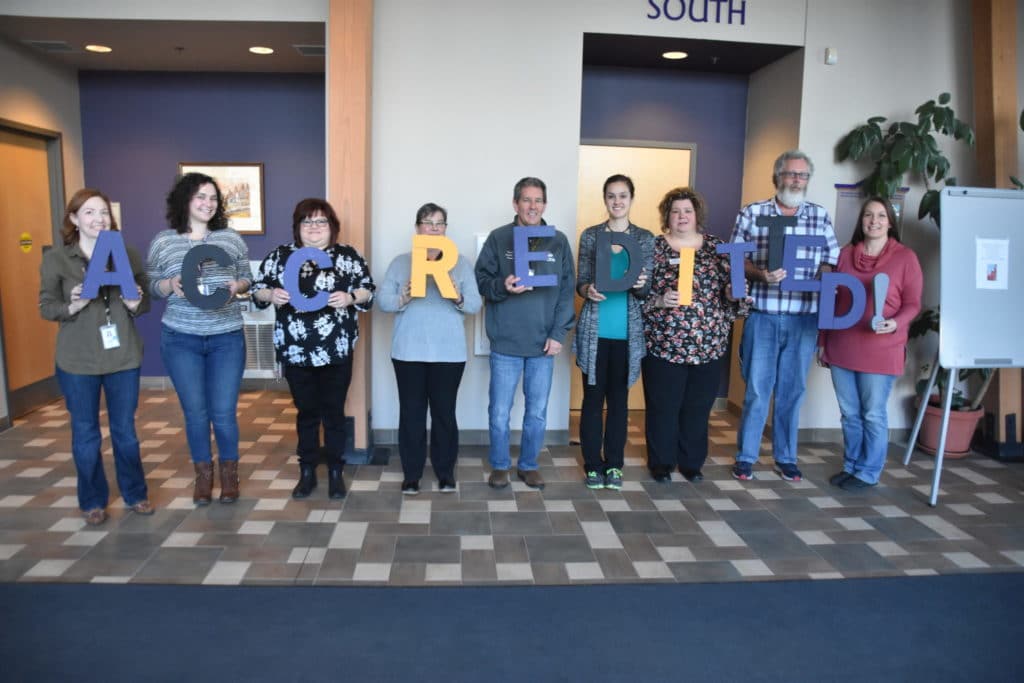 How Accreditation Improves Our Health
Hospitals, schools, police, and fire departments employ standards to help protect and serve the public.  Public health accreditation standards assure local health departments maximize their potential to protect and improve people's health in their communities. Accreditation is a successful program for routinely assessing performance and improving quality!
About Us
Director of Community Health Services
Michelle Tipple, BSN, RN – Community/Public Health Officer

Community Health Case Management
Brenda Haen, BSN, RN – Community Health Manager
Brittany Skenandore, BSN, RN – Community Health Nurse – Case Manager
Lisa Miller – Community Health Representative
Louetta Fowler, BSN, RN – Community Health Nurse – Case Manager
Maria Danforth – Community Health Representative
Neva Archiquette – Community Health Representative
Phyl Shaline, BSN, RN – Community Health Nurse – Case Manager
Toni Walking Eagle – Community Health Representative
Community Health Long Term Care Case Management 
Carrie Lindsey, BSW, CSW – Case Management Program Manager
Beatrice Skenandore – Home Care Worker
Becky Stevens, Home Care Worker
Debra Miller, BSW, CSW – Dementia Care Specialist
Heather Brocker – Home Care Worker
Lisa Voda, RN – Tribal Option RN
Rachel Lemke, BSW – Tribal Option Social Worker
Tamar Ramirez – Home Care Worker
Tammy Skenandore – Administrative Assistant
Health Promotion Disease Prevention
Stefanie Reinke, CHCW – Health Promotion Manager
Amanda Riesenberg, CHCW – Stroke Prevention Wellness Coach
Dawn Krines Glatt, CHCW – Health Promotion Specialist
Hanna Leisgang, CHCW – Health Promotion Coordinator
Maria Doxtator Alfaro – Data Coordinator
Tahkwatekwa (Tek) Skenandore, CPC – Health Promotion Specialist
Taylor Jean, NBC-HWC – Health Promotion Specialist
Nutrition Services & WIC Program
Susan Higgs, RDN, CD, WIC Nutrition Manager
Alyssa Hudak, RDN, CD, CLC, WIC Nutritionist Lead
Brianna Grosso, RDN, CD, Dietitian – Youth Consultant
Elizabeth Schwantes, RDN, CD, CDCES Dietitian – Certified Diabetes Care & Education Specialist
Heidi McCann, RDN, CD, CLS Dietitian-WIC Outpatient
Kelly Knoebel, RDN, CD, IBCLC, Dietitian-WIC Outpatient
Makenit Gutierrez, Breastfeeding Peer Counselor

Population Based Programming
Debra Santiago, BSN, RN – Public Health Manager
Andrea Kolitsch Zahringer, BSN, RN – Community/Public Health Nurse
Betsey Nickel, BSN, RN – Community/Public Health Nurse
Candi Cornelius, MSN, RN, CLC – Prenatal Care Coordinator
Carol Torres – Administrative Assistant
Char Kizior, BSN, RN, NCSN – Headstart Nurse Consultant
Leah Fuss, MSN, RN – Community/Public Health Nurse
Mercedes Drew, BSN, RN – School Nurse Consultant
Mollie Passon, CHES, Public Health Coordinator
Resources
Environmental Resources
Communicable & Reportable Disease
Public Health Law
Additional Resources: